Scottsdale Anesthesia Seminar
Oct. 27 - Nov. 2, 2018 at the Camelback Inn & Spa, Scottsdale, Arizona





Camelback Inn and its surrounding location offer a myriad of activities - either on premises or nearby in Scottsdale. Children's water playground, bicycle rental, hiking and biking trails, gift shop and clothing boutique are available at the resort. Other activities available include, horseback riding, hot air ballooning, jeeping and rafting. And don't forget that Sedona and the Grand Canyon are just a day-trip away.

Minutes from the resort, you will find shopping and restaurants in Old Town Scottsdale, Fifth Avenue Shops, Scottsdale Fashion Square, Biltmore Fashion Park, and the Kierland Commons. Other sites of interest include the Heard Museum, Scottsdale Center for the Arts, and the Phoenix Zoo.

Many "one-of-a-kind" experiences await at Camelback Inn and around town. Just let the concierge know what you are in the mood for either before you arrive or while you are a guest and they will accommodate any activity you wish to enjoy.
Things to do in Scottsdale and Phoenix
You can easily spend the week at the Camelback Inn and never leave the facilities! Golf, tennis, spa days, pool time, biking and hiking can fill your days, and the Camelback Inn restaurants will entice you to dine on property. However, Scottsdale is one of the great resort destinations in America and there is much to see and experience outside of the resort in Scottsdale and Phoenix.
AREA ACTIVITIES
(Please be advised that hours are subject to change.)

Apache Trail: Home of the Superstition Mountains, the legendary Lost Dutchman Gold Mine, beautiful lakes, world famous Roosevelt Dam, the Tonto National Forest, and Boyce Thompson Southwest Arboretum. Excellent area for day hikes. Located 45 minutes Southeast of Scottsdale. (480) 982-3141
Bicycles: Bikes are available for rent through the Concierge. Cost is $15/hr (free 2-hour rental with optional $17/day resort fee); $25/half day; $35/full day. Ride through the scenic residential areas surrounding the property.
Bondurant Driving: Like driving fast? Are you a car enthusiast and know everything about what's under the hood? Enjoy the thrill of going off-road? Or maybe you'd like to be taken back to when you were a kid and speed around the track in a kart. Whatever you are looking for, at Bondurant Driving you are sure to have a grand time and maybe learn a thing or two as well. Located in Chandler, about a 25 mile drive south of Scottsdale. (480) 403-7600
Butterfly Wonderland: This new conservatory is America's largest butterfly atrium with a magnificent, lush rainforest environment where thousands of butterflies from around the world fly freely. Open daily from 9:00am - 5:00pm. (480) 800-3000
Camelback Mountain: Drive along this famous mountain and see the Valley of the Sun. Winding roads go past some of the most expensive homes in the Valley. From Camelback Inn, turn left on Lincoln, right on Invergordon, right on Camelback, right on 56th Street and follow it to Wonderview Drive. Experienced hikers can climb to the top for a challenge beginning at Echo Canyon. Park off McDonald Drive.
Desert Jeep Tours: Leave the cares of civilization behind you and get off the beaten path. Sit back, relax and explore the beautiful scenic backcountry of the Wild West! Reservations are required, so call the concierge at ext. 7001. We recommend the "Pink Jeeps" in Sedona for an exciting adventure. (800) 873-3662
Desert Botanical Garden: Stroll through this renowned living exhibit of desert plants from five continents. Enjoy the 140 acres of over 50,000 plants! For over 70 years, the DBG has worked on protecting, educating, and preserving the desert's natural beauty. Highly recommended! Self-given and guided tours are available. Located 20 minutes away at Papago Park. (480) 941-1225
Hiking: Trails are available on the resort grounds to Mummy Mountain (see concierge for maps). You can also rise to the challenge of hiking nearby Camelback Mountain. There are many other hiking options for all levels in the surrounding area.
Horseback Riding: Professional guides and specially trained horses offer you an authentic desert riding adventure while you enjoy the landscape full of wildlife, cacti and beautiful skies. The ranches can accommodate the most novice rider to the most experienced equestrian. See the concierge for details and booking.
Hot Air Balloon Rides: From 400 feet high in the blue skies of Arizona, take in 360 degrees of Sonoran desert beauty. Commonly seen are jackrabbit, quail, roadrunner and coyote. For this once in a lifetime experience, call your concierge for advance reservations.
Turf Paradise: Offers simulcasting and live horse racing. Located at 15th Ave and Bell Road in Phoenix. Call for more information and current racing schedule. (602) 942-1101
Points of Interest
Arizona Science Center: The center is a state-of-the-art hands on exhibit containing a planetarium and a giant-screen theater. The center highlights science and technology from an Arizona perspective, showcasing Arizona talents and achievements. (602) 716-2000
Arizona State University: Located in Tempe, the campus consists of 600 acres. Points of interest include: Grady Gammage Auditorium (designed by Frank Lloyd Wright), the Anthropology Museum, University Art Collection, Center for Meteorite Studies, and much more.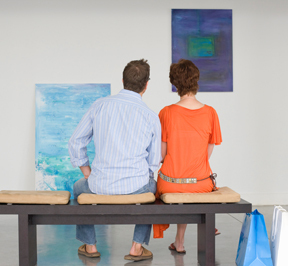 ArtWalk: This 40-year tradition takes place every Thursday evening from 7 to 9 p.m. in galleries along Main Street in downtown Scottsdale. The galleries extend their hours and show off the work of outstanding artists. They typically feature show openings, artist demonstrations and more! Enjoy at your own pace... and for free!
Chase Field: This ballpark is worth seeing whether or not you're among the 49,000+ fans catching the Arizona Diamondbacks in action. The ballpark offers guided tours year round. For pricing and tour times call (602) 462-6799. Located at 401 E. Jefferson Street in Phoenix.
Carefree and Cave Creek: Carefree, an exclusive residential and resort area, is a 50 minute drive north on Scottsdale Road. See the charming Spanish Village with its many fine shops and restaurants. Its neighbor, Cave Creek, is an authentic looking Western town located on some of the most beautiful desert in the Southwest.
Cosanti: Studio of environmental architect, Paolo Soleri, where you'll see his famous windbell workshop. Located at 6433 E. Doubletree Ranch Rd. in Paradise Valley. Open 9 a.m. to 5 p.m. Mon-Sat, 11 a.m. to 5 p.m. Sundays. Tours available by reservation. (480) 948-6145
Fountain Hills: Home of the world's highest fountain (560 feet) in a scenic park perfect for picnicking and visiting adjacent shops. The fountain operates on the hour for 15 minutes (in winds less than 10mph). (480) 837-1654
Heard Museum: Internationally recognized museum of anthropology and primitive art. Outstanding displays of Southwest Indian arts and crafts with detailed explanation, some in the first person for a personal perspective of tribal origins and customs. Located 20 minutes from the resort at 2301 N. Central Ave., Phoenix. Excellent for families! (602) 252-8840
Heritage Square: A beautifully restored segment of Victorian Phoenix. The historical buildings circa 1900 are open for tours. A gift shop and light dining spots are included in the lovely landscaped area under the Lath covering. Located on 7th Street between Monroe and Adams, Phoenix.
Musical Instrument Museum: The only museum in the world devoted to global musical instruments, including exhibits from roughly 200 countries, all enhanced by audio and video that bring them to life, including some that guests can try out. Highly recommended! (480) 478-6000
Phoenix Art Museum: Permanent collections include paintings, sculpture and decorative arts from the 15th through 20th centuries. Emphasized are 18th century French painting, Western American and Oriental art. Located at 1625 N. Central Avenue. Call for hours. (602) 257-1222
Phoenix Herpetological Society: This non-profit organization offers a rescue habitat for various reptiles and education program on native species. Tours are available by pre-scheduled appointment only. Highly recommended for families! (480) 513-4377
Phoenix Zoo: Rated among the top 10 zoos in the United States. Animals are grouped according to their habitat. A special Arizona exhibit includes native desert plants and animals. Tram rides are also available. A new children's zoo is also a special attraction. Excellent! (602) 273-1341
Pueblo Grande Ruins: An active archeological dig of a prehistoric Hohokam Indian Community. The adjoining museum holds many of the treasures from the site. Located at 4619 E. Washington in Phoenix. Closed Sundays. (602) 495-0901
Rawhide: Take a step back in time to Arizona's 1880 western town. Authenticity is the theme here with dirt streets, wooden boardwalks and original buildings. Visit the shops, pan for gold, tour the museum or stop by the Golden Belle for a thick cowboy steak. Stunt shows and shootouts add to the excitement. Located 30 minutes away at 5700 W. North Loop Rd. in Chandler. Friday-Sunday only. Call (480) 502-5600 for more information.
Scottsdale Museum of Contemporary Art: The museum is located on a 21-acre, beautifully landscaped park in downtown Scottsdale. It presents the best of contemporary art, architecture and design from around the world and from around the corner. Their exhibitions continually rotate so that a visitor will always experience the most current works of art that represent the thinking of the best and the brightest. Enjoy free admission on Thursdays! (480) 874-4666
Taliesin West: A national historic landmark nestled in the foothills, visitors are welcome at the eminent school of architecture founded by the late Frank Lloyd Wright. Its unique buildings blend effectively with the desert surroundings and houses outstanding students of architecture. Experience the place that Wright called "the top of the world" through a range of tours being offered. 12621 N. Frank Lloyd Wright Blvd. in Scottsdale. Open 9:00am-4:00pm daily for tours. (480) 627-5340
Wrigley Mansion Club: Tour through this beautiful Mansion built between 1929–1931 by the chewing gum magnate William Wrigley, Jr. Reservations for lunch/dinner or a tour can be arranged through the concierge desk. Tuesday-Saturday, Sunday brunch. (602) 955-4079
Retail Bliss
Scottsdale is the shopping mecca of the Southwest. From Nordstrom to Neiman Marcus to Barneys... all under one roof. If store hopping is more your style, cruise Old Town Scottsdale for one of a kind boutiques, Native American jewelry, and inspired art galleries. No matter what you are looking for, Scottsdale is bound to have it!
Biltmore Fashion Park: (602) 955-8400 (15 minutes)
Hours: Monday–Saturday: 10:00 a.m. to 8:00 p.m.; Sunday: 12:00 to 6:00 p.m.
Right on Lincoln Drive then left on 24th Street, then left into Biltmore Fashion Park.
Scottsdale Fashion Square: (480) 941-2140 (10 minutes)
Hours: Monday–Saturday: 10:00 a.m. to 9:00 p.m.; Sunday: 11:00 a.m. to 6:00 p.m.
Left on Lincoln Drive then right on Scottsdale Road, then right on Camelback Road, and right at next light into the mall.
Paradise Valley Mall: (602) 996-8840 (15 minutes)
Hours: Monday–Saturday: 10:00 a.m. to 9:00 p.m.; Sunday: 11:00 a.m. to 6:00 p.m.
Right on Lincoln Drive then right on Tatum Boulevard, just past Cactus Road on the left.
Chandler Fashion Center: (480) 812-8488 (30 minutes)
Hours: Monday–Saturday: 10:00 a.m. to 9:00 p.m.; Sunday: 11:00 a.m. to 6:00 p.m.
Left on Lincoln Drive then right on Scottsdale Road, left on McDonald Drive, right on 101 South, Exit Chandler Boulevard, Right onto Chandler Boulevard. Mall will be on the left.
Desert Ridge Marketplace: (480) 513-7586 (25 minutes)
Hours: Monday–Saturday: 11:00 a.m. to 9:00 p.m.; Sunday: 11:00 a.m. to 6:00 p.m.
21001 N. Tatum Boulevard. Right on Lincoln Drive, right on Tatum Boulevard (approximately 9 miles) Just north of the loop 101 on the right.
Fifth Avenue/Old Town Shops: (10 minutes)
Area with independent shops and individual hours. See concierge for more info.
Left on Lincoln Drive then right on Scottsdale Road. Shops are located just past Camelback Road.
El Pedregal: (480) 488-1072 (45 minutes)
Hours: Monday–Saturday: 10:00 a.m. to 5:30 p.m.; Sunday: 12:00 to 5:00 p.m.
Left on Lincoln Drive then left on Scottsdale Road. On the right just past Carefree Highway.
Scottsdale Pavilions: (480) 362-5190 (10 minutes)
Hours: Daily from 9:00 a.m. to 10:00 p.m.
Left on Lincoln Drive then left on Scottsdale Road, right on Indian Bend Road. Just past Pima Road.
Kierland Commons: (480) 348-1577 (20 minutes)
Hours: Monday–Saturday: 10:00 a.m. to 9:00 p.m.; Sunday: 12:00 to 6:00 p.m.
Left on Lincoln Drive then left on Scottsdale Road, just past Greenway Parkway on the left.
Gainey Village Shops: (602) 953-6150 (10 minutes) Area with independent shops.
Hours: Monday–Saturday: 10:00 a.m. to 6:00 p.m.; Sunday: 12:00 to 6:00 p.m.
Left on Lincoln Drive then left on Scottsdale Road, on the right just past Gainey Suites Road.