Cancun Anesthesia Seminar
March 26 - April 2, 2022 at The Ritz-Carlton, Cancun, Mexico
Passports are now required for all U.S. and Canadian Citizens.

Proof of Citizenship: Other Nationalities
Contact the Mexican Consulate or airlines serving Mexico for details. These regulations change periodically. At a minimum, foreign citizens will need a valid passport. Some nationalities are required to obtain a consular visa from the Mexican Consulate.

Traveling into Mexico with Minors
PASSPORTS ARE REQUIRED! Any person under 18 years of age is considered a minor. Very strict regulations govern travel by minors into Mexico. Children under 18 years of age traveling as guests of your family need a notarized letter giving permission to travel to Mexico signed by both parents and a passport. If traveling with only one parent, the minor must have a notarized letter of consent signed by the parent not traveling. If traveling with only one parent and the other parent is deceased or the child has only one legal parent, a notarized statement must be obtained as proof.

Fore more details about arrival in Cancun and/or the airport, click here.
GENERAL CANCUN INFORMATION
Just 500 miles from Miami, nestled on the eastern coast of the vast, mysterious Yucatan Peninsula, Cancun is Mexico's number one tourist destination. The star jewel of the Mexican Caribbean is studded with luxury hotels, stunning beaches, and ancient Mayan ruins. Created in the 70's, Cancun is Mexico's most luxurious tourist destination. Excellent weather, a fabulous location, and the highest concentration of luxury hotels in the Caribbean, with jungles and Mayan ruins right next door means visitors will have a wonderful visit to this paradise.

Cancun is divided into two parts. The narrow 23-kilometer-long (14-mile) island section (Cancun Island) is lined with modern beachfront hotels surrounded by the Bahia de Mujeres (Bay of Women), the Caribbean Sea, and the Nichupte and Bojorquez lagoons. Each end of the boomerang-shaped islet is connected to the mainland by bridges, the southernmost connecting to the airport and the highway south. To the north, the bridge connects the Hotel Zone with Cancun "Centro" on the mainland. "El Centro" has colorful shops, restaurants and smaller hotels catering more to European and national tourism (maps will be included in your final packet). The island is separated from the mainland by a system of lagoons: Nichupte, the largest (about 29 square km, or 18 square mi), containing both fresh and salt water; Bojorquez, at the bend of the island; and Rio Ingles to the south. North of the horizontal leg lies Bahia de Mujeres, the 9-km- (5-1/2-mi-) wide bay that separates Cancun from Isla Mujeres. Regularly placed kilometer markers on the roadside help indicate where you are; they go from Km 1 on the mainland, near downtown, to Km 20 at Punta Nizuc. Paseo Kukulcan is punctuated by driveways with steep inclines turning into the hotels, most of which are set at least 100 yards from the road. The lagoon side of the boulevard consists of marinas, shopping centers, and restaurants. What is most scenic about Cancun is the dramatic contrast between the vivid turquoise-and-violet sea and the beautiful white sand beach. You can ride the local bus circuit to get a feel for the island's layout.

When you first visit Cancun City (downtown), you may be confused by the layout. There are four principal avenues: Tulum and Yaxchilan, which run north-south; and Uxmal and Coba, which go east-west. Streets bounded by those avenues and running perpendicular to them are actually horseshoe-shaped, so you will find two parallel streets named Tulipanes, for instance. However, street numbers or even street names are not of much use in Cancun; the proximity to landmarks, such as specific hotels or restaurants, is the preferred way of giving directions.
WEATHER
Cancun weather is friendly, with an average at 80° F (27° C). At this time of year, sunshine and trade winds are the daily forecast, with highs in the 80's and lows in the 70's, but the wind keeps you surprisingly comfortable. Be careful, the breeze fools you into forgetting how much sun (burn!) you are getting. The sun is surprisingly strong here, and we strongly recommend wearing a good sunscreen until you get a feel for how your skin will react. With an annual 240 days of sunshine, rain is rare. Beaches are almost 100% limestone outcroppings covered with Caribbean sand - comes from naturally processed shell and coral so unlike quartz beaches to the north and the south, the sand stays cool even on the hottest of days.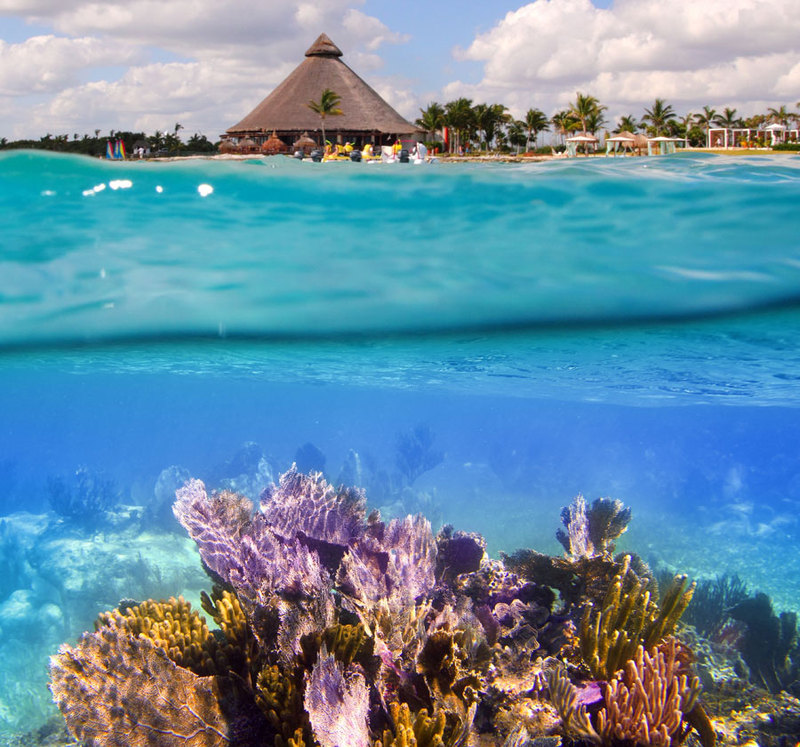 THINGS TO DO
The Yucatan Peninsula is home to countless miles of beautiful beaches. More than hotels and beaches, Cancun is packed with activities. Abundant marine life means excellent snorkeling, scuba diving, cave and wreck diving, sailing, waterskiing, jungle touring, parasailing, waverunnering. Golfers can enjoy many different courses in the area, and the hotel concierge can help in your selection. Fishing gets taken seriously. Bayside there's red snapper, bonefish, tarpon and sabana. Ocean-side finds sailfish, marlin and tuna especially in spring and summer. The obligitory pirate ships sail daily and nightly on booze cruises to Isla Mujeres. Were that not enough for the outward-bound there's world-class nightlife, and major-league shopping. For the less material, nature tours are available in immense biosphere reserves. If this is not to your taste or you desire a bit of change, the well-preserved remains of the once great civilizations of the Mayans and Aztecs are easily inside of a day's journey from Cancun. Chichen-Itza, Tulum, Coba, Kohunlich are the star cities of the ancients. Should you want to see "real" Mexico, you can take a day off from luxury and head for the neighboring islands of Cozumel and Isla Mujeres. Sunday and Wednesday are days free of seminar meetings, and many may wish to go sight-seeing. Many tours are available and most are available through several tour companies; some tours are offered in two or three levels of luxury so look at the options closely to see if they are worth paying more than the economy tour. Tours can also be booked through The Ritz-Carlton, Cancun at their tour desk or via the online link below; their tours are of excellent quality and are highly recommended.
Click Here To Book 2021 Spa and Tours/Excursions Through The Ritz-Carlton's Prince Riviera Office - 2022 Link Coming Soon!

Tulum- Xel ha
Tulum is 81 miles south of Cancun and is combined with Xel ha for a nice one-day tour. Discover the magic of ancient Tulum, the only archaeological Mayan ruins by the sea. Its majestic and unique location makes it a site worth the visit. Xel-ha is 76 miles south of Cancun; a good place to see fish first hand. Easy snorkeling for first timers. Once we were snorkeling with fish as big as we were!

Xcaret, Nature's Secret Paradise
Nature's Secret Paradise, was, for more than ten centuries, one of the most important Mayan ceremonial centers and seaports. Today, it's an incredible eco-archaeological park where you can spend a marvelous day. And when the sun has set and the day's activities have quieted down, Xcaret turns into a fairytale site that only the descendants of the Maya have known for the past 1,000 years. Xcaret offers two underground river float trips, museum, theme restaurants, dolphin and horseback rides, aquarium, and much more. If you plan to ride a dolphin make your reservation online or early in the morning. Snorkel and float trips through the underground river's eerie caves are fun and educational. Many tours from Cancun. Book online at www.xcaret.com

Chichen Itza
Spectacular Chichen Itza holds both magic and mystery. The entire complex lies out along strict astronomical lines and seems to have served as a giant calendar or cosmic clock. The Observatory is a domed building which is famous for it's incredibly accurate modern astronomical information. Among other buildings are the Temple of the Thousand Columns, and the fantastic pyramid of Kukulcan. Visit the amazing Ballcourt where you can speak to your friends a football field length away with a whisper! Chichen Itza is inland and considerably warmer than Cancun; dress accordingly and take water! Daily Departures.

Coba & Caves
Deep in the jungle, its pyramids and temples clustered around four shallow lakes, lies Coba ("waters ruffled by the wind" in Maya), one of the Mayan World's largest archaeological sites. On the way back you stop at the Gran Cenote, an impressive sinkhole for a refreshing dip and a spot for snorkeling. Then it's on to Aktun Chen Caves; look out for the stalactites and stalagmites. They are spectacular. The park features a regional wildlife reserve and a herpetarium (snake farm). Wild spider monkeys can sometimes be seen feeding in the treetops. Lunch included. Wear cool clothing, comfortable walking shoes and a hat. Drink plenty of bottled water and bring insect repellent and sun block. Don't forget your swimsuit!

Cozumel Island
Cozumel is a diver's paradise, with everything from shallow reef dives to plunging, wall dives. A marine park called Chankanaab lies on the south end of the island. A day trip to Cozumel Island is an ideal way to discover one of Mexico's vacation treasures. A 45 minute drive south of Cancun brings you to the sea port of Playa del Carmen, where you board a ferry for the cruise to Cozumel. The entire tour is yours to do as you like. You can shop or explore the limpid waters of Chankanaab, where you can swim and snorkel among the coral reefs and schools of colorful tropical fish. Diving can also be arranged for certified divers. An exciting day to visit another world. Several tours available.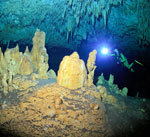 Snorkeling Tours
There are four main tours destinations for snorkeling besides the Tulum - Xel ha tour: Punta Nizuc reef, El Garrafon park on Isla Mujeres, Puerto Morelos, and Chankanaab park on Cozemel. The best is the reef of Puerto Morelos, recently declared a national park to protect the marine creatures that make their home among the corals. Cozemel remains very good for snorkeling. Most trips include round trip transport, drinks, lunch, snorkel gear. Daily Departures.

Jungle Tour
Enjoy an exciting tour across the Nichupte lagoon & the mangrove forest, where you get to drive your own two-person speed boat. Head for the open ocean to Punta Nizuc, a section of one of the longest coral reefs in the world, where there is a stop for some swimming, snorkeling and sunbathing before heading back to the marina. Many daily departures.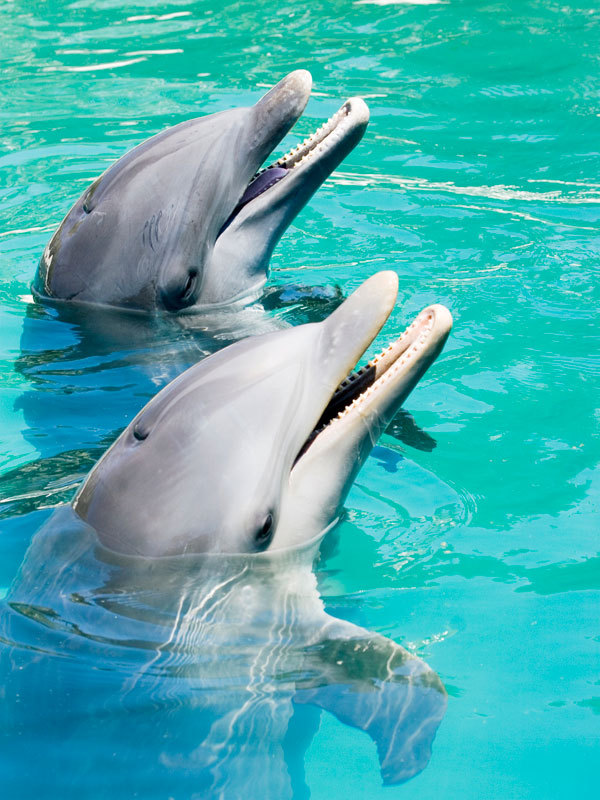 Swim with Dolphins
There are several swim with the dolphins programs. One is at Xcaret, the others, around Cancun or on Isla Mujeres. Most are similar, and about one hour long and is divided in two parts. During the first part, swimmers watch an educational video about dolphins and receive an orientation on how to swim with them. The second part is the actual swim and lasts a little over half an hour. During this time swimmers will participate in structured behaviors and free swim time. Structured behaviors consists of activities such as dorsal tows, foot pushes, swim-bys (petting) and dolphin jumps. The free swim time is basically unstructured snorkeling with the animals. Many daily departures.

Aqua World
Located at Km. 15.2 Ave Kukulcan. This marina is an all-purpose recreation center offering deep sea fishing, jungle tour, diving and snorkeling excursions and more! 85-2288 Boulevard Kukulkan at 7.5 kilometre marker, Hotel Zone, Cancun

Wet 'n Wild
787 feet of ocean front and acres of slides, chutes, flumes, floats and sponges for all the family make Wet 'n Wild the place to get wet. Boulevard Kukulkan, Hotel Zone, Cancun.

Isla Mujeres
Caressed by trade winds, blessed with sparkling, white sand beaches and surrounded by clear, turquoise waters, Isla Mujeres translates to "Island of Women". According to lore, the Mayan warriors hid their women and children here to protect them during the invasions of the Spanish Conquistadors over 500 years ago. Inhabited long before the resort of Cancun was established, today she is a day destination for Cancun vacationers. About an hour by boat from Cancun, Isla Mujeres offers visiting a "real" Mexican village, snorkeling at El Garrafon, motor bike rentals, and more. Isla Mujeres is also the destination for many of the tours featuring beach parties. Many tours of all discription depart daily, but you can also take water taxis that depart regularly, or the native ferries, and then wander on your own. The snorkeling is at the opposite end of the island from the village, so a visit there requires a tour, a taxi ride, or renting a motor bike.

Folkloric Ballet
Several available. Be touched by the hearts, souls, and rhythms of Mexico from the comfort of the World Class Convention Center. This dynamic dance production capsules the humanities of a proud and creative country. Includes welcome cocktail, Regional costumes fashion show, Mexican buffet dinner, live music. Convention Centre, Boulevard Kukulcan, Cancun.

Convention Centre Museum
National Institute of Anthropology and History. Exhibits genuine pieces from the ancient Mayan culture in Quintana Roo. Convention Centre, Boulevard Kukulcan, Cancun.

Museum of Popular Art
Museum dedicated to Mexico's craftsman and their colorful masterpieces. At the Embarcadero.

Ruinas Del Rey
Dive deep into the mystery of the Mayas at this small archaeological site located at the end of Cancun's Hotel Zone towards Punta Nizuc. The tranquility of the ruins makes them an ideal place to take a stroll.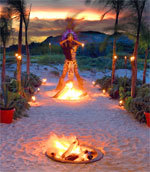 Aztec Ceremony and other Shows
Visit the Parque de las Palapa to catch an Aztec Ceremony Dance, Musical Show, or many other special events. Check with the hotel conceirge to learn about these local events.
SHOPPING
Available everywhere! There are boutiques located at The Ritz-Carlton, and several malls scattered through the hotel zone, including the Kukulcan Plaza within walking distance from The Ritz-Carlton. In the mall shops the prices are more fixed, while in shops outside the resort zone, bargaining is expected. Watch the quality of items as it can vary a great deal, even in the same shop.
PLACES TO VISIT ALONG THE TULUM CORRIDOR
100 miles of marine adventure waits to be discovered, from the Cancun coast to the archeological site of Tulum (The Cancun-Tulum corridor). Exploring the corridor is easy; Highway 307 runs North-South with well marked offshoots leading east, to the sea, or west, inland to archeological sites. It is the only road south along the coast.

Puerto Morelos at 36 km. / 22 miles. Remains as a fishing village. Quiet and laid-back, beachfront restaurants serve very fresh fish and ceviches; snorkeling, sailing and fishing tours are easy to arrange. The beach and reefs are in great shape, but currents should be watched carefully by inexperienced.

Punta Bete at 52 km. / 32 miles. a quiet place, sand road takes you between natural gardens to the beach.

Playa del Carmen at 68 km. / 42 miles. This is the point to take a boat to Cozumel island and is the largest town south of Cancun. The center of the Riviera Maya.

Xcaret at 72 km. / 45 miles. (described under "Things to Do")

Paamul at 92 km. / 57 miles. With scattered palapas and palm trees, also has camping facilities.

Puerto Aventuras 98 km. / 61 miles. Is a big development with full services, a dive shop, marina and nautical museum.

Xpu-Ha at 100 km. / 60 miles. Its beach is considered one of the state's best. This palm plantation offers one of the best places for snorkeling. Tiger herons and cormorants can often be seen in the mangroves surrounding the caleta. Remember that touching a reef kills it, enjoy it from a distance.

Akumal at 104 km. / 65 miles. Was famed for the annual beaching of thousands of egg-heavy green and loggerhead turtles on hot summer nights. This is a good place for snorkeling, diving, sailing and fishing. Remember that touching a reef kills it, enjoy it from a distance.

Chemuyil at 109 km. / 68 miles.

Xcacel at 119 km. / 74 miles. A very white beach with a reef that runs right up to the shore, good for snorkeling for first time, a bonus for non-swimmers which want to see fish first hand. Remember that touching a reef kills it, enjoy it from a distance.

Xel-Ha at 122 km. / 76 miles. Another good place to see fish first hand (described under "Things to Do"). Remember that touching a reef kills it, enjoy it from a distance.

Tulum at 131 km. / 81 miles. Not for swimming, it is one of the most famous ruins in the area. Go there to see ruins in the gorgeous setting of being next to turquoise water and perfect white sand (described under "Things to Do").
EATING OUT
Click here to view restaurant options.
NIGHTLIFE
Cancun fascinates because it is many things at once. Happy hours abound at the hotels, often with live music. Dinner shows are an option. Also available are the dinner cruises (romantic or party boats available). Many hotels offer Mexican Nights with shows of Mexican music and dance at least one night per week. Some of them include a buffet with the show. You can check places and schedules at your hotel front-desk. The most known are: "The Folklore Ballet" in the Convention Center with its dinner buffet, and at El Cortijo at Flamingo Plaza. Consult the booklet "Cancun Tips" for more information.