Cancun Anesthesia Seminar
March 26 - April 2, 2022 at The Ritz-Carlton, Cancun, Mexico
THE RITZ-CARLTON, CANCUN FEATURES THESE FINE DINING OPTIONS
We have found the food quality and consistency at The Ritz-Carlton, Cancun restaurants to be a cut above the other Cancun resorts. Their food cleaning and safety measures are impeccable, virtually guaranteeing foods that are typically avoided in Mexico, like lettuce, fruits and vegetables, are safe to enjoy. So, partake in the many fabulous culinary experiences they offer, worry-free!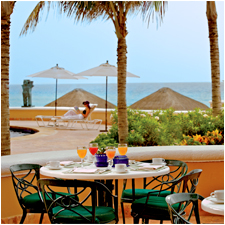 El Café Mexicano - Casual for Breakfast and Lunch
Open Daily from 7:00am - 5:00pm
With an emphasis on Mexican and American favorites, El Café Mexicano features inventive breakfasts and elaborate buffets, with seating available indoors and outside on the terrace overlooking the Caribbean Sea. Be sure to try the incredible breakfast buffet at least one morning during your stay! Our attendees get 10% OFF of El Café Mexicano breakfast menu prices (from 7:00am - 9:00am only) and lunch menu prices (from 12:00pm - 2:00pm only) excluding alcohol. Be sure to ask for this discount!
Click to View Menu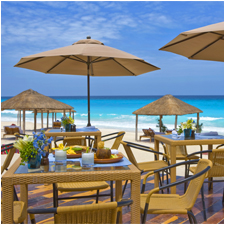 Caribe Bar & Grill - Casual/Swimwear for Lunch
Open Daily from 11:00am - 6:30pm
Hang out poolside and overlook a white sand beach at The Caribe Bar & Grill in a casual, relaxing atmosphere. Caribbean and American specialties are offered for lunch, and tantalizing tropical drinks make the bar an excellent choice for an afternoon refreshment.
Click to View Menu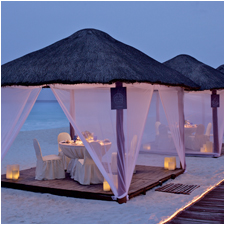 Casitas - Casual Oceanfront Ambiance for Dinner
Open Daily from 7:00pm - 11:00pm
The only steakhouse and seafood grill located on the beach in Cancun. With a quaint and casual oceanfront ambiance, enjoy this intimate gourmet experience under the stars, with a menu including surf and turf directly from the grill. Dining is provided in the lively atmosphere of the oceanfront terrace, or in private handmade cabanas on the sand for an extra charge of $95 USD per reservation. Casitas is the perfect choice for a special celebration with your one-and-only or amid friends and family for an enchanted evening by the sea.
Click to View Menu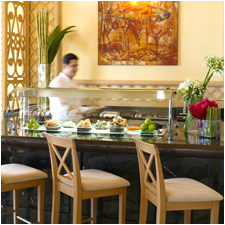 Sushi & Ceviche Bar - Casual for Dinner in The Lobby Lounge
Open every day, except Sunday, from 6:00pm - 11:00pm
The perfect spot for tapas and a light seafood dinner. Join the adventurous foodies savoring the exquisite menu with the perfect combination of sushi, sashimi and ceviche prepared a la minute.
Click to View Menu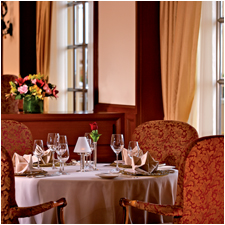 The Club Grill - Smart Casual for Dinner
Open every day, except Monday, from 6:30pm - 11:00pm
Elevated Continental cuisine featuring prime cuts and a diverse wine list spiced up with vibrant tones of live jazz. The menu plays with Mexican farm-to-the-table products, bold flavors and artistic presentations to deliver the finest gourmet experience in a distinguished, but warm, setting. Enjoy the splendor of 10 years of award winning cuisines, the famous souffle station, and a sophisticated martini bar. A nightly pre-fixed menu featuring three courses is available; vegetarian and kids menus available. The attire is smart casual; long pants and closed shoes are required for gentlemen. A dining tradition not to be missed!
Click to View Menu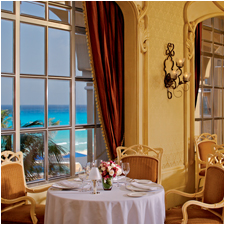 Fantino - Smart Casual for Dinner
Open every day, except Sunday, from 6:30pm - 11:00pm
Considered one of the top restaurants in Mexico, and one of the top rated restaurants in North America, Fantino offers Mediterranean cuisine at its finest. The awarded menu features a loyal devotion to natural flavors with fresh interpretations and creative presentations complemented with live piano music. Ask for the tasting menu of the season, which promises to be a savory highlight of your vacation. The attire is smart casual; long pants and closed shoes are required for gentlemen, and dining in Fantino is a glamorous experience. A must for food lovers!
Click to View Menu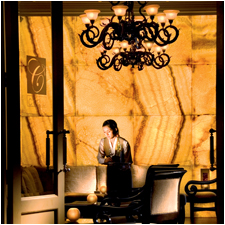 The Lobby Lounge - Casual for Dinner & Drinks
Open Daily from 5:00pm - 12:00am
The Lobby Lounge has it all, with four distinct ambiances in which to indulge. Lean up to the Sushi & Ceviche Bar for cocktails and light meals, show off your talent on the Dance Floor with live music, walk out to the Terrace for a stunning ocean view, or unwind with a cool martini at the trendy Clau Lounge. An additional light dinner menu is available along with more than 70 of Mexico's premium varieties of tequila. Make a reservation with the tequila specialist for a tequila flight (30 min.) or tequila tasting (90 min.), available daily at 6:00pm.
Click to View Menu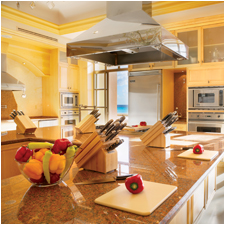 The Culinary Center - Cooking Lessons & Dine with the Chef
Cooking Lessons: Eat, drink and have fun! Take home more than a memory from your visit to Mexico. Learn a new and entertaining way to approach food and wine in a striking, professionally equipped kitchen overlooking the Caribbean Sea. Lessons include a three course meal and drinks and are offered every Wednesday: Real Mexican at 3:00pm/Tuscan Dinner Party at 7:30pm.
Dine with the Chef: Gourmets and social enthusiasts alike will take pleasure in the most amusing dining experience and food show. The Chef's Table at the Culinary Center allows 12 guests exclusively the privilege to dine with Chef Rory Dunaway at his luxurious oceanfront kitchen. Each mouthwatering experience includes a five course menu prepared a la minute with specially designed wine pairings. Mediterranean at 7:30pm Tuesday and Friday/A Mexican Gourmet Dining Experience at 7:30pm Monday, Thursday and Saturday.
Tequila and Wine Tastings are also available daily upon request at 6:00pm.
Click to View Menus and Details
24-Hour In Room Dining
Rest in the comfort of your room as you enjoy breakfast, lunch, dinner and snacks from the 24-hour In Room Dining Menu. Selections for every taste and age are included.
EATING OUT
We have found the restaurants and food quality at The Ritz-Carlton, Cancun to be impeccable, and we leave the resort less and less for dining. However, Cancun abounds in restaurants serving many styles of good to excellent food. Fresh seafood is served everywhere; Huauchinango (Red Snapper), Mero (Grouper) are the most common. Italian food is available at a few places. Consult the local booklets Cancun Tips and Cancun Menus for listings. For those lovers of Mexican-American food, be aware that in Cancun you get authentic Mexican food, which usually means different flavoring, less cheese and less sauces than we're used to in the States. Is the food safe to eat and the water safe to drink? At The Ritz-Carlton, Cancun, absolutely! Food cleaning and safety measures are impeccable, virtually guaranteeing foods that are typically avoided in Mexico, like lettuce, fruits and vegetables, are safe to enjoy. Outside of the resort, the answer is almost always, yes! But, for better taste and to be on the safe side, we buy bottled water for drinking. However, to be sure, (as recommended in the GI literature) we also take Pepto-Bismol QID and eat almost anything we want outside the resort including salads and fruits and have not gotten sick in the past 15 years, since we started the Pepto-Bismol routine. It is less expensive to purchase in the US and bring with you.

Restaurants - Hotel Zone
Captain's Cove - Located on the lagoon across from the Royal Mayan at Km 16.5 Ave. Kukulkan; Phone: 998-885-0016. One of the more popular restaurants in Cancun. Diners face big open windows overlooking the lagoon and Royal Yacht Club Marina. Main courses of steak and seafood are the norm at lunch and dinner, and there's a menu catering especially to children. For dessert there are flaming coffees, crepes, and Key lime pie. Main courses $16-$20.

Cenacolo - Located in KuKulKan Plaza; Phone: 998-885-3603. Cenacolo's owner is passionate about authenticity. This is an Italian's Italian restaurant from imported wines to the traditional breads and pastas made before your eyes in their open kitchen. Casually elegant, cozy and romantic with soft lighting and friendly service. The newly enlarged wine cellar is the perfect place to enjoy wine & food tasting, plus experience a cultural journey through Italy. Live piano music.

Casa Rolandi - Located at Plaza Caracol; Phone 998-883-2557. Authentic Northern Italian and Swiss dishes skillfully prepared by the Italian owner-chef. Appetizers and huge salad and antipasto bar, cheese fondue, and wide selection of main courses.

Hacienda Sisal - Located at Royal Sands Resort on Blvd. Kukulcan, Km 13.5; Phone 998-848-8220. Richly appointed with magnificent dining room. Candlelight, gorgeous woodwork, beveled glass doors and windows, handsome paintings, and an expansive brick cupola create a warm and intimate atmosphere. Extensive Mexican buffet. Traditional Mexican and Caribbean dances are performed in the adjoining patio area of the Hacienda several nights a week, beginning at 9:00pm.

Harry's - Located across from the Ritz-Carlton on Blvd. Kukulcan, Km 14.2; Phone 998-840-6550. Expensive. Impressive and contemporary steakhouse, with all steaks aged 21-28 days. Outdoor seating recommended on the lagoon. This is one of the best meals we've had in Cancun, and is a must!

La Destileria - Located across from Kukulcan Plaza on Blvd. Kukulcan, Km 12.65; Phone 998-885-1086. This is a combination restaurant and tequila museum with mariachis. More than 100 kinds of tequila are available by the glass. Traditional Northern Mexican food with a modern update. Moderate to expensive. Outdoor seating recommended over the lagoon, with frequent crocodile sightings. One of our favorites!

Laguna Grill - Located on Blvd. Kukulcan, Km 15.6; Phone: 998-885-0267. Contemporary seafood and steak on the lagoon. Great reviews with frequent crocodile sightings.

Maria Bonita - Located in Hotel Camino Real on Blvd. Kukulcan, Km 9; Phone: 998-883-1730. Overlooking the water, with nice atmosphere. Menu includes the best of Mexico's cuisines, by regions. Preparation is excellent and you are entertained by mariachis. Expensive.

Pizza Rolandi - Ave. Coba & Ave. Tulum; Phone: 998-884-4047. Shaded outdoor patio restaurant serving wood-fired oven pizza plus a selection of Italian entrees. A sister restaurant is in Isla Mujeres.

The Plantation House - Located on Blvd. Kukulcan, Km 10.5; Phone 998-883-1455. Reservations essential; Expensive. This gourmet restaurant recreates the plantation era of the Caribbean, with tables in white linens and classical piano music adding to the refined atmosphere. Inspiring seafood dishes and other exotic fare. Superb wine list. A memorable meal.

The Rosato - Located in the Fiesta Americana Condesa on Blvd. Kukulcan, Km 15.5; Phone 998-885-0808. Sophisticated and free of gimmicks, this elegant restaurant has Italian dishes which are transformed into masterpieces. No lunch. Moderate to expensive.

Thai Lounge - Located in La Isla Shopping Center on Blvd. Kukulcan, Km 12.5; Phone 998-144-0364. Outstanding atmosphere located on the lagoon, with dining in private palapas. Sensual ambiance with classic Thai specialties and exotic cocktails. Some tables have views of the adjacent dolphin tank. Highly rated on trip advisor and we have enjoyed a lovely evening here.

100% Natural - Locations at: Plaza Terramar, Kukulcan Plaza, Forum Plaza and downtown. No reservations; inexpensive. These cheery open-air restaurants have menus including vegetarian and egg dishes, sandwiches, 4-course specials, and Mexican specialties.

Restaurants - Cancun City
El Pescador - Tulipanes 28; Phone: 998-884-2673. Serves well-prepared fresh seafood in its street-side patio and upstairs venue overlooking the Avenue. Mexican specialties as well. Mexican plates: $5-9; main courses $9-50 USD.

La Habichuela - Margaritas 25; Phone 998-884-3158. Outdoor garden setting on the lagoon in a colonial atmosphere. Grilled seafood and steaks and Mayan Mexican specialties such as enchiladas Suizas or Tampiquena-style (thinly sliced, marinated and grilled) beef. Main courses: $8-30 USD.

La Parilla - Yaxchilan 51; Phone 998-884-5398. Mexican food that is a favorite among tourists and locals alike. Good food, good atmosphere, and highly recommended.

Perico's - Yaxchilan 61; Phone: 998-884-3152. Colorful and popular place known more for the lively atmosphere than the food, and good for kids and grownups alike letting loose and joining in the fun. Marimba music from 7:30-10:30pm and mariachis from 10:30pm-midnight. Main courses: $9-20 USD.

We have eaten at many of these restaurants over the years, or others have been recommended to us. There can be less consistency in the quality of meals than you would get at home, even in the US "chain" restaurants. We welcome your recommendations and comments!