Is It Safe to Travel to Mexico?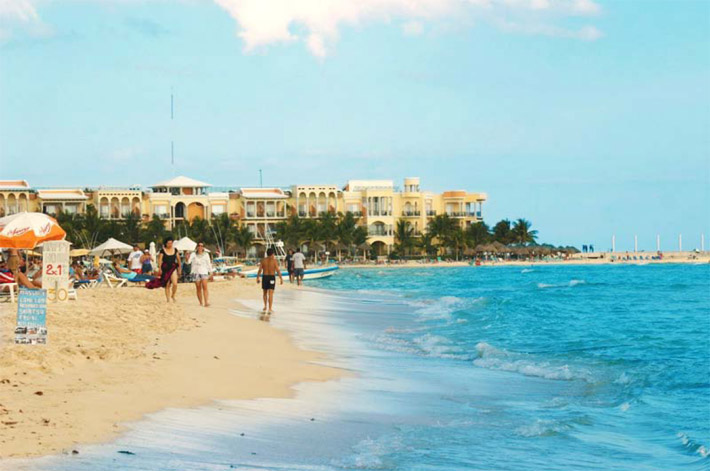 In the light of negative media coverage focusing on Mexico's ongoing fight against organized crime and violence in areas along the border with the United States, you, your family or friends may be wondering if it is safe to travel to Mexico. The answer is a resounding yes. This beautiful country has so much to offer and its people are renowned for their hospitality and generosity. The Mexican Caribbean is a leading international travel destination, incidents of violent crime are rare in Cancun and the Riviera Maya, and overall the Yucatan Peninsula is one of the safest places in the world to vacation.
Mexican Geography Explained, Size does Matter
It is important to put geography into perspective: Mexico is a huge country with a territory of 758,774 square miles and a population of 112, 468,855 (July 2010 estimate). In terms of landmass, it is the world's 14th largest country, slightly less than three times the size of Texas and roughly the size of Western Europe! Media reports frequently fail to take this into account, thus painting a misleading, false and alarmist picture.
Most of the incidents associated with organized crime in Mexico that are being reported by the press are taking place in the north of the country - often in sparsely populated mountainous areas or in the desert - and in cities along the Mexico-US border, thousands of miles from Cancun and the Riviera Maya. To give an idea of the vast distances from north to south, one of the cities often mentioned in crime reports is Tijuana in Baja California, 2,012 miles from Cancun, the equivalent of the distance between Los Angeles to Chicago. In a recent webinar for Travel Weekly,
Mexican Minister for Tourism, Gloria Guevara Manzo, gave another example by asking listeners if they heard about a violent crime in New York, would they cancel a trip to Birmingham, Alabama, 979 miles away, the answer would obviously be no. So why would an incident occurring thousands of miles away on the other side of Mexico affect a trip to the Mexican Caribbean?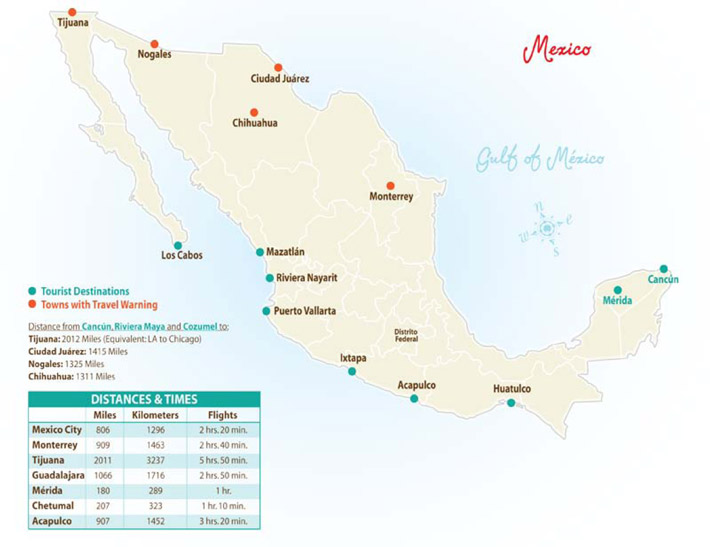 Map of Mexico showing distances between cities
A Few Facts
It is a fact that bad news sells, prompting people to buy a newspaper, visit a website or turn on the TV, and in the case of Mexico foreign media coverage often gives the impression that violence is rife throughout the country, fostering fear and raising concerns that it is dangerous to come here. This is not the case; let's take a look at some of the statistics:

The murder rate registered for Mexico in 2009 was 12 per 100,000 inhabitants, considerably lower than that registered in other Latin American countries, for example in Brazil it was 22 and Venezuela, El Salvador and Honduras have murder rates of 49, 71 and 67 per 100,000 respectively (Source: Brookings Institution).

Washington, D.C.'s murder rate is nearly quadruple that of the Mexican capital, Mexico City, which is one of the world's largest cities with a population of 21 million. Washington's murder rate was 31.4 per 100,000 people in 2008 and New Orleans 95; Mexico City's rate in 2009 was eight.

The state with the lowest murder rate in Mexico is Yucatan, famous for its beaches and Mayan ruins. Its murder rate of two per 100,000 is comparable to Wyoming and Montana and lower than Canada. Sources: USA Today, August 2010 and The Economist, October. Another recent article in The Economist suggested that this rate can be compared with that registered for France.
The Fight against Organized Crime
Mexican President Felipe Calderon launched a crackdown on organized crime in 2006 and today more than 50,000 troops and Federal police are actively involved in the war on drugs. Record amounts of narcotics have been seized and destroyed, and many senior cartel leaders have been captured or killed in operations. The drug cartels are fighting the army and law enforcement agents but they are also turning on their rivals in violent turf wars for control of smuggling routes. The Mexican Government is at pains to point out that the vast majority of the casualties attributed to drug-related violence involve people who were connected with the drugs trade or members of the security forces. The general public has not been targeted and there have been no incidents involving international tourists.

A BBC website report published in September 2010 revealed that 80 percent of gang murders registered since 2006 have been perpetrated in around 7 percent of Mexico's municipal districts, and within that figure the violence is concentrated yet further. The border city of Ciudad Juarez (population 1.7 million) has seen 20 percent of the murders, while three other northern cities, Culiacan (pop. 605,304), Tijuana (pop. 1, 286, 187) and Chihuahua (pop. 784,518), account for 16 percent.
More International Visitors to Mexico in 2010
Despite the negative press about drug-related violence in cities along the border with the United States, there has been an 18 percent rise in the number of international visitors to Mexico arriving by air in 2010. Cancun International Airport alone has registered almost 12 million foreign and domestic passengers this year, including tourists, business travelers, general and transit traffic. Furthermore, the Mexican Tourism Board reported that in the first six months of 2010, 5.1 million tourists enjoyed their vacation in the Mexican Caribbean, with the number expected to exceed nine million by the end of the year.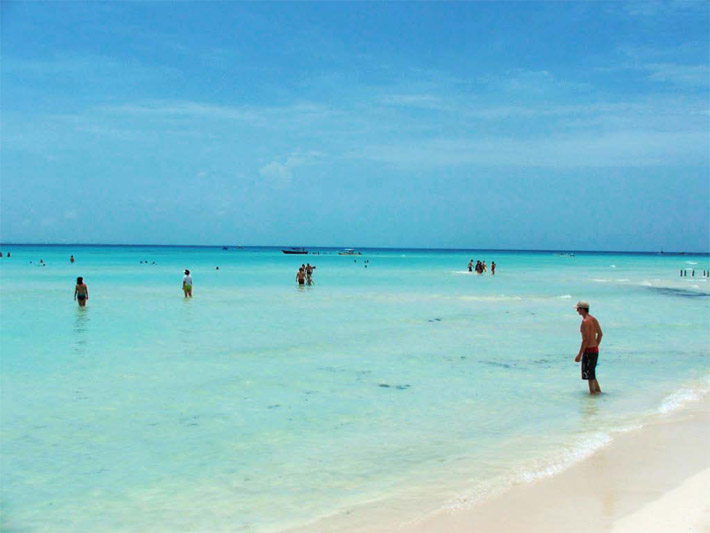 Isla Mujeres, Mexico
Online travel sites such as Orbitz and Travelocity have noted the enduring popularity of Cancun and Riviera Maya for fall and winter getaways and both destinations have garnered travel awards this year. Beyond the nation's famous beaches, a number of other Mexican destinations such as Oaxaca, Veracruz, San Miguel de Allende, Ensenada and the Baja California wine producing area have also been featured in some of the world's major travel magazines, including Conde Nast Traveler and Travel & Leisure.
The Mexican Tourism Board recently reported that around 22.6 million tourists will have visited the nation by year-end and that it has noted rises in the numbers of visitors from several countries including the United States (16.8 percent), Canada (22 percent) and Argentina (35 percent). When one looks at repeat visits, 97 percent of all international visitors surveyed indicated their intention to return. Growth looks set to continue into 2011 and tourism experts are predicting an increase of up to 15 percent and that the number of visitors could reach 26 million.

According to World Tourism Organization figures, Mexico is currently ranked number 10 in the world in terms of international arrivals and the long-term goal of the Mexican Tourism Board is to double the number of visitors to the country, something that would take it into the top five. Given that Mexico is blessed with a wealth of natural, historical and cultural attractions beyond its spectacular shoreline, it undoubtedly has the potential to expand.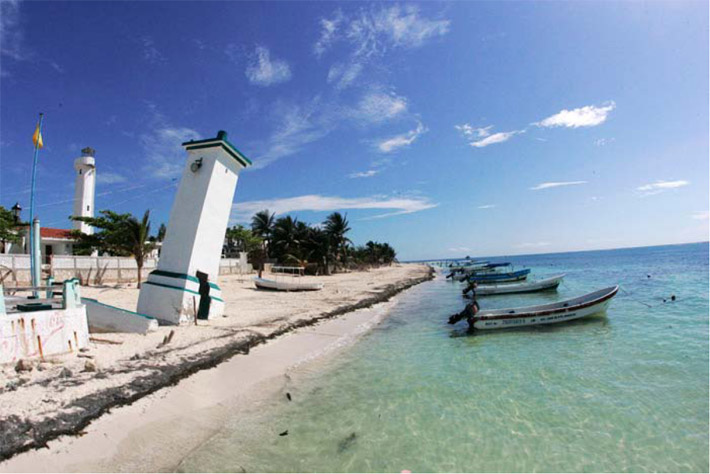 Puerto Morelos, Mexico
Repeat Visits, Mexico's Success
There's no doubt of Mexico's appeal, visitors are captivated by the warm climate, the beaches and spectacular landscapes, archaeological sites and colonial cities, the friendly people and their rich traditions. Recent Mexican Tourism Board figures on repeat visits reveal that 97 percent of all international visitors surveyed indicated their intention to return.
Millions of U.S. Citizens also Call Mexico Home
In addition to the millions of U.S. citizens that travel to Mexico every year for a vacation, approximately 2.5 million more live in different parts of the country as permanent or seasonal residents (Source: Mexican Tourism Board). They are joined by expats from countries all over the world who have also chosen to make their homes here.
Common Sense is the Key Wherever you Travel in the World
All major urban centers in the US and elsewhere in the world have neighborhoods with a reputation for crime and gang violence. Common sense is the key to safety wherever you travel, whether at home or abroad, and may we suggest that you take certain precautions, just as you would if you were going to a new city in your own country. Be aware of your surroundings and stay alert, stick to reputable restaurants, bars and other establishments and take care when visiting unfamiliar areas. General travel recommendations also apply, such as not leaving your bags unattended in public places, not displaying expensive jewelry or large amounts of cash, always storing your travel documents and valuables in the in-room safe and not walking alone at night through poorly lit neighborhoods.

Cancun and the Riviera Maya have always been, and remain, two of the safest places in the world for tourists. Moreover, in keeping with other international travel destinations, the authorities have upgraded security in the Mexican Caribbean in recent years and tourist areas are well policed.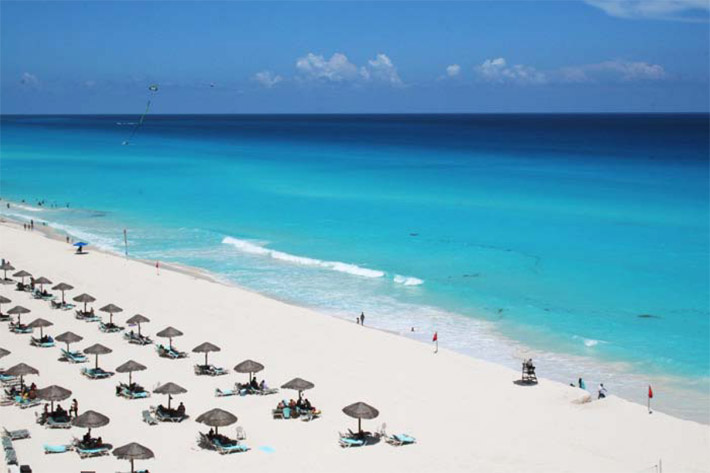 Cancun, Mexico
There is no reason to consider changing your travel plans. The beaches of the Mexican Caribbean are as inviting as ever and the variety of tourist attractions on offer in the area just keeps growing by the year.
In other news, recent developments in the airline industry are making it easier to travel to the Mexican Caribbean: British Airways and Virgin America added Cancun to their route network in 2010, and Continental, American Airlines and Delta have all increased the number of flights offered. The expansion plans of cruise lines and international resort companies also reflect continued confidence in the area.
Mexico's Economic Prospects
A recent CEPAL (Economic Commission for Latin American and the Caribbean) report reveals that Mexico has made a strong economic recovery in 2010 with a growth rate of 5.3 percent, a remarkable turnaround after the 2008 recession and a decline of 6.1 percent in 2009. Growth is set to continue in 2011 with forecasts ranging from 3.5 percent (CEPAL) to 4.3 percent (Merrill Lynch). Currently the world's 13th largest economy, Mexico is also the largest trading nation in Latin America. It has immense potential and is expected to be one of the world's top seven economies by 2050.
Sources: Brookings Institution, Secretaria de Gobernacion de Mexico, USA Today, The Economist, BBC website, UK Trade & Investment, Mexico Tourism Board