Maui Anesthesia Seminar
February 24 - March 2, 2024 at the Hyatt Regency Maui Resort & Spa
HYATT REGENCY RESORT RESTAURANTS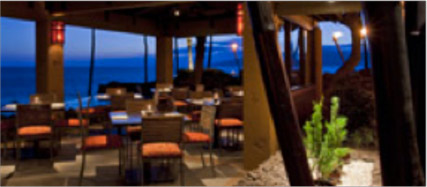 Japengo
Savor fine dining and entertainment in Maui at our Pacific Rim Restaurant and Sushi Lounge. A culinary adventure showcasing modern Asian-inspired flavors with Hawaiian flair!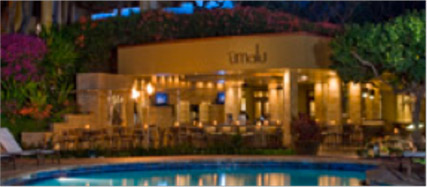 'Umalu
Meaning "the shade cast by a cliff" in Hawaiian, 'Umalu offers guests a reprieve from the sun. Located on the pool deck, with views of the resort and the Pacific Ocean, 'Umalu is open for breakfast, lunch, and dinner, and serves up cool, refreshing beverages from 10am to 11pm.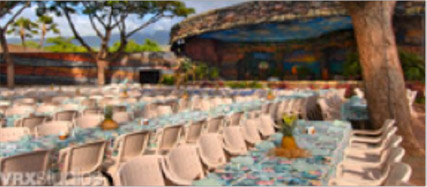 Drums of the Pacific Lu'au
No visit to Hawaii is complete without the unforgettable experience of a traditional Lu'au. Including and elaborate buffet, Drums of the Pacific Lu'au will enchant and entertain your entire family. See our Special Discounts page for the link to reserve this experience with our group discount!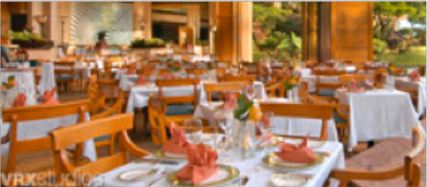 Son'z Steakhouse
Seafood, Steaks, Cellar ... Maui-Style! Known for its award-winning wine cellar, fully-stocked bar and the best steaks on Maui, Son'z Steakhouse uses only high-quality products that are rich in flavor and fresh to taste.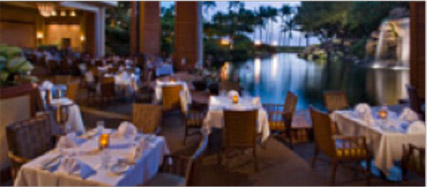 Swan Court Breakfast
Offering a lavish breakfast buffet, along with an extensive menu of a la carte selections including delicious baked goods, fresh fruit and juices, omelettes, oatmeal, sausage, French toast and crepes.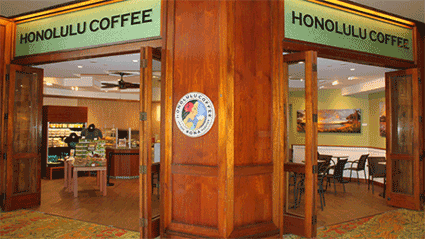 Honolulu Coffee
A convenient coffee bar serving their award winning coffees along with freshly baked pastries, tropical fruit smoothies, and acai bowls. Located lobby level.
DINING ON MAUI
BANYAN TREE - 808-669-6200 - banyantreekapalua.com
LOCATION: Ritz-Carlton, Kapalua
HOURS: 5:00 - 9:00 PM; Closed Mondays
Located in the Ritz-Carlton, Kapalua, featuring upscale New American cuisine with spectacular sunset views from this open air, ocean view restaurant and lounge.
CANE AND CANOE - 833-779-7951 - montage.com
LOCATION: Montage Hotel: 1 Bay Dr., Lahaina
HOURS: 7:00 - 11:00 AM, 5:30 - 9:00 PM
Creative, modern cuisine that celebrates Hawaii's diverse cultural influences while showcasing its freshest locally sourced ingredients.
DA KITCHEN - 808-446-3486 - dakitchenkihei.com
LOCATION: 1215 S Kihei Rd. Suite E, Kihei
HOURS: 11:00 AM - 8:00 PM; Closed Sunday
One of Hawaii's most recognized restaurants, Da Kitchen aims to satisfy the hunger pangs of the ever working Maui community with tasty staples of the Pacific, served plate lunch style. With an array of awards and features, from Hawaii's The Ilima Award to Diners, Drive-Ins and Dives, Da Kitchen's focus is delivering quality local food in perplexing portions.
DOWN THE HATCH - 808-661-4900 - dthmaui.com
LOCATION: 658 Front St. #102, Lahaina
HOURS: 11:00 AM - 9:00 PM
All natural, wood fired clay oven pizza. A great stop on the north shore.
DUKE'S BEACH HOUSE MAUI - 808-662-2900 - dukesmaui.com
LOCATION: 130 Kai Malina Pkwy., Lahaina
HOURS: 8:00 AM - 8:00 PM
Duke's Beach House honors renowned waterman and Hawaii's most famous son, Duke Kahanamoku. He was an Olympic swimmer and the father of modern day surfing but he may be best known for sharing his genuine spirit of Aloha. Just steps from the sand, you are treated to sweeping views of the Pacific framed by the islands of Molokai and Lanai along with a casual, nostalgic ambiance and a glimpse into the life of their namesake, Duke.
FERRERO'S BAR E RISTORANTE - 808-874-8000 - fourseasons.com
LOCATION: 3900 Wailea Alanui Dr., Four Seasons Resort, Wailea
HOURS: 11:00 AM - 9:00 PM
Offers a diverse and casual lunch menu alongside an authentic Italian "cucina rustica" cuisine for dinner. Enjoy magnificent sunset views, world-class service, an extensive collection of Italian wines, and homemade pastas at this charming fine dining restaurant.
FLATBREAD COMPANY - 808-579-8989 - flatbreadcompany.com
LOCATION: 89 Hana Hwy., Paia
HOURS: 11:00 AM - 9:00 PM
All natural, wood fired clay oven pizza. A great stop on the north shore.
GATHER IN MAUI - 808-698-0555 - gatherinmaui.com
LOCATION: 100 Wailea Golf Club Dr., Wailea
HOURS: Lunch 11:30 AM - 3:00 PM; HH 3:00 - 5:00 PM; Dinner 5:00 - 8:00 PM
Nestled in the heart of South Maui lies a new culinary gem called Gather in Maui. With a passion for creating unforgettable memories through shared dining experiences, this Wailea restaurant and bar embraces the power of coming together. Perched on the stunning Wailea Gold and Emerald Golf Courses, the new Maui restaurant offers breathtaking panoramic views of the Pacific Ocean, Haleakalā and Molokini Island, making every dining moment unforgettable.
HALI'IMAILE GENERAL STORE - 808-572-2666 - hgsmaui.com
LOCATION: 900 Hali'imaile Rd., Makawao
HOURS: Tuesday–Saturday 11:00am–2:30pm, 5:00–8:00pm; Closed Sunday & Monday
Eclectic American with Asian overtones, based on the Hawaii regional cuisine movement. This off-the-beatenpath spot has won many awards, including Best Maui Restaurant, Best Chef Award in the Maui News, and one of Hawaii's top 10 restaurants from Gourmet magazine.
JOEY'S KITCHEN - 808-868-4474 - joeyskitchenhimaui.com
LOCATION: Whaler's Village; 2435 Ka'anapali Pkwy., Lahaina
HOURS: 8:30am–2:00pm; 4:00–8:00pm
Casual, affordable counter service restaurant with a Hawaiian twist on tacos, shrimp and ribs. Try their garlic chicken and kale caesar! Excellent for takeout on the beach.
KŌ - 808-875-2210 - korestaurant.com
LOCATION: 4100 Wailea Alanui, Wailea
HOURS: HH 4:00 - 5:00 PM; Dinner 5:00 - 8:00 PM
Kō, which translates to sugarcane in Hawaiian, is inspired by the sugarcane plantation era, a time when people from around the world came to the Hawaiian Islands to work in the sugarcane fields. The plantation workers brought recipes and cooking techniques from home, while utilizing the ingredients available to them in the islands. Today, Executive Chef Aris Aurelio leads the culinary masterpiece of Kō restaurant in Wailea. The expansive menu features island family recipes that have been passed down for generations - including Hawaiian, Chinese, Filipino, Portuguese, Korean, and Japanese favorites. By utilizing the island's fresh produce, meat and seafood, Chef Aurelio gives these authentic recipes a farm-fresh, contemporary twist.
KULA BISTRO - 808-871-2960 - kulabistro.com
LOCATION: 4566 Lower Kula Rd., Kula
HOURS: Breakfast 7:30 - 10:15 AM Tue-Sun; Lunch & Dinner 11:00 AM - 8:15 PM Daily
Formerly Cafe 808, this restaurant has undergone a major renovation. They specialize in homestyle food with an Italian flair, you'll find pizzas, pasta, great breakfast food, and homemade desserts. Located across from the Morihara Store, where purchasing alcohol for BYOB is an option. Walk-ins only!
LEILANI'S - 808-661-4495 - leilanis.com
LOCATION: Whaler's Village; 2435 Ka'anapali Pkwy., Building J1, Lahaina
HOURS: 11:00am–10:00pm
Island style fish and steak. Fresh fish, lamb, king crab and prime rib.
MAMA'S FISH HOUSE - 808-579-8488 - mamasfishhouse.com
LOCATION: 799 Poho Pl., Paia
HOURS: 11:00am–8:30pm
Located in a beautiful coconut grove along a white sand beach, this landmark restaurant is remarkable in offering fresh island seafood specialties with unbelievable ocean views. Considered by many to be the best restaurant on Maui! Book reservations for lunch or dinner well in advance, like 6-8 months out!
MAUI POKE - 808-868-0814 - mauipoke.co
LOCATION: Whaler's Village; 2435 Ka'anapali Pkwy., Lahaina
HOURS: 10:00am–9:00pm
Delicious and high quality build-your-own poke bowls, sushi and more, including a wide variety of vegetarian, vegan, and gluten-free options. A great option for takeout on the beach!
MERRIMAN'S - 808-669-6400 - merrimanshawaii.com
LOCATION: 1 Bay Club Place, Kapalua
HOURS: 4:00–8:30pm
Reservations required. Next to Kapalua Bay Beach, one of our favorite places to soak up the views on their breathtaking patio. One of the best water views and atmospheres of any restaurant on the island! Pre-fix menu required now.
MILL HOUSE - 808-270-0333 - millhousemaui.com
LOCATION: 1670 Honoapi'ilani Hwy., Waikapū
HOURS: Tuesday–Friday 11:00am–8:00pm; Saturday–Sunday 9:00am–8:00pm; Closed Mondays
Contemporary American with the highest quality ingredients, carefully selected by field and row within the plantation's grounds, and by close collaboration with select farmers and providers. The Maui Chef's Table is located on the same plantation and features an interactive multi-course dining experience from a chef's perspective. This open-air kitchen concept allows you to watch as each course is created.
MONKEYPOD - 808-878-6763 - monkeypodkitchen.com
LOCATION: Whaler's Village; 2435 Ka'anapali Pkwy., Lahaina
HOURS: 11:00am–10:00pm; HH 3:30–5:00pm
Chef Merriman's newest concept focusing on craft food, beer, and cocktails, with an open-air atmosphere at Whaler's Village. An excellent restaurant and Ka'anapali hot spot. Reservations needed in advance. Try the delicious Mai Tai's — and watch out, they're strong!
PAIA FISH MARKET - 808-579-8030- paiafishmarket.com
LOCATION: 100 Hana Hwy., Paia
HOURS: 11:00am–9:30pm
No Reservations. Casual restaurant specializing in great local fish with locations on the north shore and in Lahaina. Fish tacos, fish and chips, pastas, burgers and more. Highly recommended by locals.
THE PLANTATION HOUSE - 808-669-6299 - theplantationhouse.com
LOCATION: 2000 Plantation Club Dr., Lahaina
HOURS: Brunch & Lunch 8:00am–2:00pm; Dinner 4:45–8:00pm
Located high above the Kapalua coastline, a modern blend of traditional plantation-style atmosphere, old fashioned Hawaiian hospitality and the finest in island cuisine. Delicious pineapple upside down cake!
ROY'S - 808-669-6999 - royyamaguchi.com
LOCATION: 2290 Ka'anapali Pkwy., Lahaina
HOURS: Lunch 11:00 AM - 2:00 PM; Dinner 4:00 - 8:00 PM
At the Ka'anapali Golf Course. The original Hawaiian fine dining restaurant. Always excellent! We especially love the fish here and the chocolate souffle!
SANSEI SUSHI - 808-669-6286 - sanseihawaii.com/kapalua
LOCATION: 600 Office Rd., Kapalua
HOURS: 5:00–8:30pm; Early Bird Special Sunday & Monday 5:00–5:45pm, 50% of food and sushi - no reservations.
Delicious Asian-inspired dishes and sushi - locals say it's the best sushi on the island and we agree! Reservations recommended for all other dining times.
TAVERNA - 808-667-2426 - tavernamaui.com
LOCATION: 2000 Village Rd., Kapalua
HOURS: Sunday Brunch 10:00am–2:00pm; Monday Dinner 5:00–9:00pm; Tuesday–Sunday 11:30am–10:00pm
A comfortable, casual neighborhood Italian restaurant with urban drinks in the heart of the Kapalua resort.
THREE'S BAR & GRILL - 808-879-3133 - threesbarandgrill.com
LOCATION: 1945 S Kihei Rd., Suite G, Kihei
HOURS: 11:00am–9:00pm
Acclaimed restaurant by three surfer buddy chefs incorporating three cuisines – Hawaiian, Southwestern and Pacific Rim. Three's is all about great food with locally sourced ingredients, creating memories, and the casual island lifestyle that these friends enjoy every day.
TIN ROOF MAUI - 808-868-0753 - tinroofmaui.com
LOCATION: 360 Papa Place, Suite Y, Kahului
HOURS: Tuesday–Saturday 10:00am–8:00pm; Closed Sunday & Monday
Very popular hot-spot serving noodles and Hawaiian dishes by Top Chef finalist Sheldon Simeon. Takeout only.
FOOD TRUCKS
HOURS: 11:00am–9:00pm, but most trucks are open starting at 5:30pm
There are highly recommended food trucks in Honoapi'ilani across from the Times Market. There are also excellent food trucks by the Kahului airport at 520 Keolani Place. Great options to try local fare or if you're having a hard time getting into restaurants!