Maui Anesthesia Seminar
February 24 - March 2, 2024 at the Hyatt Regency Maui Resort & Spa
The Hyatt Regency Maui & Spa is the ultimate Ka'anapali Beach hotel. Located on 40 lush, immaculately landscaped beachfront acres, this Maui hotel presents an astonishing array of delightful ways to spend your days and nights. Frolic in the water playground, pamper yourself at the spa, play championship golf and tennis, snorkel at Black Rock, ride the waves, even spend an evening with the heavens. Delight in the spectacular ocean views, relish the beautifully renovated guest rooms, and dine in the delectable restaurants. Indulge in all that the Hyatt Regency has to offer to create your own perfect Maui getaway.

The Hyatt Regency is also ideal for families. Enjoy fun pools with a rope bridge stretched out across them and a spectacular 150-foot lava tube slide. Plus, there's an abundance of wildlife, everything from parrots and flamingos to swans and penguins. Learn from the free wildlife tours for both kids and adults. Wander the specialty shops, but you can walk to Whalers Village for a multitude of additional entertainment, shopping and restaurants.

About Maui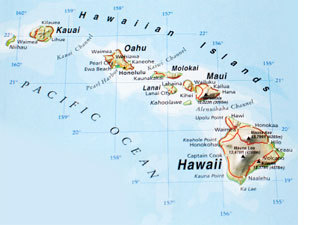 The Island of Maui
Known as one of the best islands in the world, Maui is the second largest of the Hawaiian Islands. Enjoy 30 miles of golden, red, and black sand beaches with an average water temperature of 75 degrees in February and March. Discover the true sense of Aloha on this magical island.
Hyatt Regency On-Site Activities
Relaxing at the Kamaha'o Marilyn Monroe™ Spa - See Special Discounts page
Drums of the Pacific Lu'au - See Special Discounts page
Scuba Diving Lessons
Tennis Lessons
Mermaid Lessons
Hula Demonstrations
Lei Making Classes
Art, Wildlife, and Garden Tours around the Spectacular 40-Acre Resort
Ka'anapali Beach
Star Gazing Program with the Astronomer
Fitness Center and Classes
Pool with Lava Tube Slide
The Beach! Free Backpack Beach Chairs/Umbrellas and Rental of Lounge Chairs or Cabanas are available
Rent an Ocean Kayak or Standup Paddleboard and set out to sea. Sea turtles, whales, dolphins and other marine life abound. During whale season you're likely to come astonishingly close to these amazing creatures. . . sometimes you can even hear their songs while swimming in the water!
Whether you prefer an action-packed getaway, fun, family-oriented programs or restful days spent at the pool and beach, you'll find the Hyatt Regency Ka'anapali Beach resort offers everything you need for a perfect and memorable stay filled with exciting Maui activities.

While there is plenty to do at Hyatt Regency Maui Resort & Spa, there is also a multitude of exciting Maui activities within close proximity. A long boardwalk along Ka'anapali Beach offers the perfect place for a beachside stroll and access to many other shops, restaurants and activities, including just a 15-minute walk to the shops and restaurants of Whalers Village. You'll find good snorkeling awaits you at nearby Black Rock, which offers the easiest snorkeling for kids.

Hyatt's in-house activities and restaurant reservations service provides one-stop shopping for information, discounts, and reservations on all tours, activities, golf, and restaurants around Maui. Stop by the office anytime, or contact them at 808-667-4727 (Fax: 808-667-4487): open seven days a week, 7:00 a.m. to 9:00 p.m. (Hawaii Standard Time) for your convenience.
Top 10 Things to Do in Maui
Some favorite activities to do while in Maui include:
1. Touring Maui or Molokai by Helicopter
2. Grabbing Appetizers and Drinks while Whale Watching on Merriman's Patio at Kapalua Bay
3. Zip Lining through the Lush Tropical Forrest
4. Driving the Hana Highway and Hiking to Waterfalls Along the Way
5. Snorkeling Black Rock
6. Learning to Surf
7. Visiting the Maui Ocean Center
8. Experiencing the Hawaiian Sailing Canoe
9. Watching a Sunrise at Haleakala, Then Biking Down (or Stargaze after Sunset!)
10. See the Whales Up Close on a Whale Watching Boat Tour

Maui Activities
Stretch out on the best beach in the world
Isn't this what you came for in the first place? The Hyatt Regency boasts 1,800 feet of beach front on one of the most famous beaches in the world - Ka'anapali Beach, known for good weather and sunshine. If you are so inclined, snorkeling, surfing, kayaking and stand up paddleboarding are at your doorstep (rent at the activities desk by the spa). In addition, this time of year Humpback whales are here during their annual migration. Watch for them from the beach or your balcony, and don't miss getting a closer view on a whale watching tour! The Hyatt Regency Maui has the largest section of the world renowned Ka'anapali Beach fronting their 40-acre property, but it goes on for miles! A wonderful beach path lets you enjoy the whole thing.
Watch the sun set over the Pacific
What's more glorious than a sunset on the beach! Almost all areas of the resort, including the dining venues offer outstanding westerly views. Just relax as the sun goes down and let your soul soar as the setting sun shimmers on the water.
Play world-class golf
Maui has world-renowned golfing. Ka'anapali Golf courses adjoin the Hyatt Regency. The most famous course is the Plantation Course at Kapalua, home to the Hyundai Championship (formerly called the Mercedes Championship) every January. Also well known is the Bay Course at Kapalua. Wailea Gold, Emerald, and Blue are also top courses. Wailea Gold is home to the Champions Skins Game held every February. The Plantation Course and the Wailea Emerald Course have some of the most beautiful views. The courses away from the tourist areas are less expensive and usually easier.
Discover the Road to Hana
The Road to Hana is a legend. Miles of twists, turns, lush rainforest, scenic ocean vistas, waterfalls, flowers, and the unexpected at every turn. Drive it yourself or just enjoy the ride in a guided van tour (although if you are prone to carsickness, driving yourself is recommended). See the "Seven Sacred Pools". Properly called 'Ohe'o Gulch, this is a string of over seven pools and waterfalls starting many miles up the mountain (please note that swimming in the pools is usually not allowed and sometimes this is closed). Part of the dramatic and rugged Kipahulu coastline past Hana, this is the most popular Road to Hana destination, although should not be the only goal on this trip - don't forget to enjoy the hikes to hidden waterfalls along the way! Visit Lindbergh's grave. The famous aviator is buried 8 miles past Hana in Kipahulu, in a non-assuming, simple marked grave of his own design. Lindbergh's grave can be found at Palapala Ho'omau Church under the shade of a Java plum tree. Explore Wai'anapanapa State Park. Wai'anapanapa State Park just outside of Hana offers sweeping panoramic views, sea arches, a black sand beach, fresh-water pool caves, and more. It's a must for all Hana adventures. Drive on from the Road to Hana. If you're an adventurer who appreciates "the road less traveled", continue on past Hana and Kipahulu to Haleakala's back side. It's a wonderfully scenic continuation of the Hana trip as the road hugs the coast before gaining altitude above South Maui. The Road to Hana is more about enjoying the journey than arriving at a destination - hike to hidden waterfalls and stop for Hawaiian snacks along the way! If a long day of driving does not sound fun to you, skip this excursion and pick something more your style!
Visit Mount Haleakala
Watch the ethereal sunrise from Haleakala Mark Twain called it "the sublimest spectacle I ever witnessed." Words can not do this event justice, but sunrises as viewed from atop the 10,000′ mountain are typically nothing short of legendary. Hike into the Martian landscape of Haleakala Crater. The landscapes inside the crater are surreal. Often compared to a moonscape, with the ranges of reds it more resembles a Mars-scape. Whatever you call it, it is a sight to behold likely like nothing you've seen before. Bike down Haleakala volcano. There are no shortages of downhill biking companies on Maui. You can go with a group, or rent your own gear. If you go solo, you can start at the Haleakala Summit and either take the well-traveled paved Crater Road on down, or the exciting (and off-road) Skyline Trail. Ride on a horse into the Haleakala Crater. Going into the Crater on a horse will take regular folks a whole lot further in than most would otherwise see. The ride starts at the summit and takes Sliding Sands trail to the base of the crater 3.8 miles in. As an alternative, you can also enjoy sunset followed by a stargazing tour! If you are planning a sunrise drive up Haleakala (on your own without a tour), you must now make a reservation for entry between 3:00am to 7:00am at recreation.gov. Cost is $1.00 per vehicle and spaces fill up fast! Book at www.recreation.gov and search "Haleakala National Park Summit Sunrise Reservations". Pack extra layers as it gets really cold at the top! Make your reservations as soon as possible to avoid being disappointed.

Take a helicopter tour
Take an exhilarating ride to witness Maui from a bird's-eye view. The quickest and most exciting way to tour through Maui's many micro-climates – from the Martian landscape of Haleakala Crater to the verdant East Maui rainforest. Touring by helicopter allows you to see loads in just an hour or two, and to fly into otherwise inaccessible areas. There are many companies to choose from, but we've had great experiences with Blue Hawaiian. Seeing the dramatic cliffs of Molokai is another highly recommended helicopter tour!

Go fishing for the big ones
Surrounded by all this ocean there are plenty of options for sport fishing. Most boats depart from Ma'alaea harbors.

Watch the whales
During our visit, Maui is graced with countless humpback whales birthing and mating. Whales can be observed from the Hyatt Regency or up-close on a whale-watch boat. See information on how to book a discounted Sunset Cruise under the Maui Special Discounts page on this website.

Take a sunset cruise
Sail slowly along the majestic Maui coastline, enjoying whale sightings and a beautiful sunset. Tasty appetizers or dinner and bar service are available on many excursions. The Hula Girl, Trilogy, and Gemini boats offer top notch experiences and are our favorites. See information on how to book a discounted Sunset Cruise under the Maui Special Discounts page on this website.

Snorkel day trips
There are many beautiful sailboats that offer snorkel trips to various areas, allowing you to enjoy the sun and sea. The Hula Girl Ka'anapali snorkel day trip is very highly recommended (a really fun, gorgeous day!) and it is only a half-day excursion which is super convenient. Another very nice excursion is the Trilogy day trip to Lanai; this is a full-day excursion. The Gemini boat is another great option for excellent tours.
Ho'okipa, Lookout
Ho'okipa Beach on the North Shore (five minutes past Paia) is a world-renowned surfing and wind-surfing destination. Ho'okipa Lookout is a parking lot on the edge of a cliff overlooking the action. During the winter months, when the North Shore surf is up, this is a great balcony for watching the best surfers in the world shred.

Ride a Zip Line
Ziplines are an incredibly fun way to see parts of Maui you'd never see. The best lines fly riders over rough terrain and verdant gulches, riders soar over a beautiful forest canopy.
Snorkel with sea turtles
The Hawaiian green sea turtle, a protected species, are becoming plentiful once again. You're likely to see them snorkeling at Ka'anapali Beach in front of the Hyatt and at Black Rock, and at Kahekili Beach Park. (But just look, it is illegal to harass or touch.)

Snorkel in the Molokini Crater
Molokini Crater is a popular marine reserve sheltered inside a small volcanic crater island off of South Maui. Molokini is home to hundreds of species of fish and coral, some found nowhere else but Hawai'i. A snorkeling trip to Molokini Crater is usually unforgettable, and scuba diving on the back side is available.

Learn to surf, paddleboard, windsurf, or kiteboard
If you've never surfed, why not learn how?! Adventurous sports and lessons abound on the island.

Visit Kula - Surfing Goat Dairy and more upcountry fun
Located on the slopes of the Haleakala volcano, tours and tastings of this goat dairy are available daily. Alii Kula Lavender Farm, Ocean Organic Vodka Distillery, Grandma's Coffee House, Hali'imaile General Store, and the Ulupalakua Ranch Store & Grill with farm fresh burgers, food and pineapple winery are also in the area, which can make for a fun upcountry day and Maui foodie tour. 808-878-2870 surfinggoatdairy.com

Maui Ocean Center
One of the world's top 10 aquariums! Great for families or a rainy day, this excellent aquarium's mission is to foster understanding, wonder, and respect for Hawaii's marine life. Encounter the animals that live in Hawaii - many found nowhere else in the world - and learn about the close relationship that exists between Hawaiians and the sea. 808-270-7000 mauioceancenter.com

See 'Iao Valley
A lush rainforest surrounded by towering verdant cliffs, 'Iao Valley is the second wettest place in Hawai'i. Conveniently accessible from Central Maui, 'Iao Valley State Park has paved walkways, informational signs, and beautiful sightseeing so that it is easily accessible to all.

Visit museums and learn about Maui's history
Maui's rich history can be uncovered at the many modest museums throughout the island. The Bailey House museum in Wailuku, the Sugar museum in Kahlui (Pu'unene), the Hana Cultural Center in Hana, the Hawaii Nature Center in 'Iao and the Maui Ocean Center in Ma'alaia are the most popular.

Explore sea life in tide pools
Tide pools are their own ecosystem, and kids & nature lovers will find endless enjoyment exploring them. You'll encounter these at most beaches if you look, but if you really wanna get serious, search on "Maui tide pools" to uncover many favorites.
See a blowhole
A blowhole is a hole in the lava rock that connects to an underground, partially submerged ocean cave. The cave and opening are shaped in such a way that when the ocean rises or waves crash into it, a jet of water shoots into the air. Maui has two notable blowholes, including: Nakalele Blowhole in West Maui and Waianapanapa in Hana. They are more spectacular on days with bigger waves.
Drive a circle around West Maui
The northern side of West Maui has been called "West Maui's Road to Hana". If winding narrow roads at the edges of cliffs make you nervous, you'd best skip this one – although driving clockwise puts you on the "body-shop side" of a miscalculation (rather than the "free-fall-plunge-o-death" the guy coming the other way will experience.) There are many stops along the way and the majority of this trip is largely for driving and sightseeing enjoyment.

Go shopping
There is shopping here for every taste and style – from t-shirts to Versace, from skimpy bikinis to Rolex watches. If shopping is your bag, Maui won't leave you wanting for place to break out the plastic!
Explore Maui's longest lava tube
A cool change of pace from the typical Road to Hana trip – you can explore a portion of the largest lava tube (cave) in Maui. Many interesting features making it a must-see for those interested in caves and geology. Kids also absolutely love it!