Aspen Anesthesia Seminar
January 29 - February 5, 2022 at the Viceroy Snowmass Resort
The following comments are from our experiences, from registrants at previous Aspen Anesthesia meetings, and from locals. Please understand that staff, service and menu items can change from year to year.

Guidelines Represent Entree Prices
Less Expensive (under $15): $
Moderate ($15 - $25): $$
Expensive ($25 - $40): $$$
Very Expensive ($40 - $60+): $$$$
VICEROY RESTAURANTS
TORO KITCHEN AND LOUNGE - 970-923-8008 $$$
Pan-Latin inspired menu from acclaimed chef Richard Sandoval. Options from grilled fish to steaks while using fresh, organic and sustainable products from Colorado. Extensive wine and cocktail list.
CAFE V - $
Barista service featuring espresso and coffee drinks. Variety of pastries made in house. In the Lobby, open daily, 6:30 AM - 6:00 PM
SNOWMASS RESTAURANTS
THE ARTISAN at the STONEBRIDGE INN - 970-923-2427 $$$
Handcrafted, locally sourced cuisine featuring the finest ingredients of the season. A much loved local favorite, sit in the bar and enjoy Doc Eason perform magic on Tuesday and Thursday evenings from 6 to 10 PM. Located in the Stonebridge Inn. Breakfast 7:00 AM - 10:00 AM. Bar opens at 3:00, Dinner service and carry out from 5:30.
BASE CAMP BAR & GRILL - 970-923-6000 $$
At Base Village. Open daily 11:00 AM - 9:00 PM
BIG HOSS GRILL - 970-923-2597 $
CREPES N' JUICE - $
Savory crepes, sweet crepes, smoothies, fresh juices, yogurt bowls and coffee. No indoor seating. On the Snowmass Mall. Open 8:00 AM - 5:00 PM.
FUEL - 970-923-0091 $
A cozy cafe offering delicious breakfast and lunch. Nice variety of bagels, burritos and and creative sandwiches. Espresso, tea, and exceptional smoothies. Highly recommended; limited seating; takeout. End of the Snowmass Mall by the RFTA (to Aspen) Bus Stop and across from parking lot 6. Open from 7:00 AM to 3:00 PM.
IL POGGIO - 970-923-4292 $$
A favorite of both locals and attendees featuring handmade Italian pastas and wood fired pizzas. Two seating areas, the ristorante & the more casual cafe and bar area. On Elbert Lane, Snowmass Mall. Dinner only.
KRABLOONIK - 970-923-3953 $$$$
Spectacular rustic atmosphere featuring European cuisine and wild game for lunch and dinner. Food: excellent; Short taxi ride. Also open for lunch at the bottom of Campground lift. Reservations required.
NEW BELGIUM RANGER STATION - 970-236-6277 $$
10 beers on tap from New Belgium Brewing. Menu includes soups, sandwiches, nachos and pretzels. On the Snowmass Mall. Open 11:00 AM - 10:00 PM.
PASTORE'S TASTE OF PHILLY - 970-923-5711 $
Featuring Philly style hoagies, pizza, and more. No indoor seating. On the Snowmass Mall. Open breakfast, lunch and dinner.
SAGE at the SNOWMASS CLUB - 970-923-0923 $$$
Local and sustainable ingredients served in a club setting. Extensive wine list. 239 Snowmass Club Circle. Serving lunch, dinner and Sunday brunch.
SAKE - 970-429-4970 $$
Pan-Asian and sushi restaurant with sake bar. Also serves a nice variety of rice, noodle and traditional dishes. Located at Base Village. Open 5:00 PM - 10:00 PM.
SLICE - 970-923-2743 $$
Italian Bistro. Located at Base Village. Open 11:00 AM - 9:00 PM.
SLOPESIDE LANES - 970-429-8839 $$
Enjoy wood fired pizzas, burgers and other classic bar fare while you bowl, or just come to eat! Bowling is $65 per hour, per lane, maximun 6 people per lane. Reservations for bowling recommended. Open 4:00 PM - 12:00 AM.
SLOW GROOVIN' BBQ - 970-429-4761 $$
Great BBQ with housemade rubs and sauces and 24 beers on tap. Casual, lively atmosphere with music most nights. On the upper Snowmass Mall. Open 11:00 AM - 2:00 AM.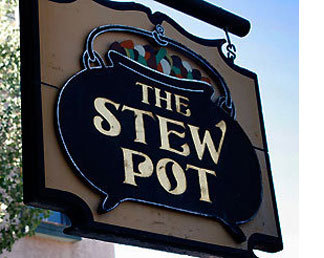 STEW POT - 970-923-2263 $
Homemade soups, stews, sandwiches and salads. Good, casual homestyle food. On the Snowmass Mall. Open every day, 11:00 AM - 9:00 PM.
TASTERS - 970-923-5250 $
Pizza and casual Italian. At the Snowmass Center. Serving lunch and dinner; dine in or take-out/delivery.
THE EDGE RESTAURANT & BAR - 970-923-4004 $$
Alpine Cuisine featuring cheese fondue, homemade sausages and traditional schnitzel. Kid's menu available. Located in the Timberline. Open 5:00 PM - 9:00 PM.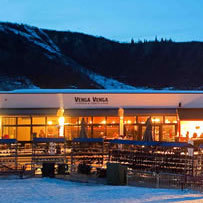 VENGA VENGA - 970-923-7777 $$
Mexican cuisine and tequila bar that delivers delicious food in a slope side atmosphere. Enjoy extensive menu options by acclaimed Chef Richard Sandoval while relaxing by their warming fire pits. Open 11:00 AM - 9:00 PM.
ZANE'S TAVERN - 970-923-3515 $
Classic bar menu, featuring hamburgers, wings, and great Mexican. Pool table. A local favorite. Located on the Mall upper level. Open 3:00 PM to 2:00 AM.
SNOWMASS RESTAURANTS - ON MOUNTAIN DINING
ELK CAMP RESTAURANT - 970-923-0450 $$
Local organic selections featured at various stations including rotisserie, panini, salad bar, soul-warming soups, bakery and artisan hand-tossed pizzas from scratch. Located at the top of Elk Camp Gondola. Open 9:30 AM - 4:00 PM.
GWYN'S HIGH ALPINE RESTAURANT - 970-923-5188 $$
Located on the mountain at the top of Alpine Springs lift. In two sections; Ski magazine voted the cafeteria side best at a ski resort. The other section, Gwyn's, has outstanding food, elegantly served with a view of the slopes. For Gwyn's, make reservations in advance if possible. Serving breakfast and lunch.
LYNN BRITT CABIN - 970-923-8715 $$-$$$$
Excellenct food in a beautiful rustic cabin. Serving lunch, apres ski, and select dinners. A Snowcat transports you to dinner. Reservations required. On the Velvet Falls run, next to Spider Sabich cabin.
SAM'S SMOKEHOUSE - 970-923-8686 $
Authentic BBQ and other fare. Also serving breakfast and an espresso bar. At the top of the Village Express lift. Open 9:00 AM - 4:00 PM.
TWO CREEKS CAFE - 970-923-8636 $
Grab and go goodies at the base of the Two Creeks lift.
ULLRHOF - 970-923-0400 $
American cafeteria style burgers, hand cut fries and more. At the bottom of the Big Burn.
UP 4 PIZZA - 970-920-1220 $
Excellent pizza served fast; salads, some sandwiches. Don't miss the one of a kind fresh baked cookies! At the top of the Big Burn lift.
ASPEN RESTAURANTS
There is no way to adequately sample the many great restaurants in Aspen. However, we will mention a few that we, our registrants, or locals consistently enjoy.
AJAX TAVERN - 970-920-6334 $$$
Casual fine dining with a American-French style menu. Great truffle fries and people watching. At the base of Ajax Mountain, 675 Durant Avenue. Open 11:30 AM - 9:00 PM. Reservations taken only for dinner.
ASPEN KITCHEN - 970-300-4245 $$$$
An artisanal market-to-table restaurant in the heart of historic downtown Aspen. Led by Executive Chef Matthew O'Neill, featuring authentic, all-American ingredients with items sourced locally from Colorado along with an inspired beverage program and hand-crafted cocktails. 515 E. Hopkins Ave. Open 11:30 AM - 10:00 PM.
BOSQ - 970-710-7299 $$$
Featuring New World cuisine from renowned chef Barclay Dodge. Innovative cocktails and extensive wine list. Open 6:00 PM - 10:00 PM.
BRUNELLESCHI'S - 970-544-4644 $$
Serving gourmet handmade pizzas, salads and pastas. Great for families - kids can make their own pizza. 205 S. Mill Street. Open for lunch and dinner.
CACHE CACHE - 970-925-3835 $$$
Fantastic classic French food served in a modern atmosphere. Extensive wine list. Sit in the bar for a more casual experince. Reservations recommended for the dining room. 205 S. Mill. Dinner Only.
CHEF'S CLUB by FOOD & WINE - 970-429-9581 $$$$
Features a rotating menu by Food & Wine Magazine's Best New Chefs. Named one of the 100 best restaurants in the country by Time Magazine. 315 E. Dean Street. Dinner Only.
CP BURGER - 970-925-3056 $
Fast food featuring great burgers, hot dogs, salads, truffle parmesan fries, and spiked milkshakes. Limited seating. Next to Silver Circle Ice Skating Rink. 433 E. Durant Avenue. Open 11:00 AM - 9:00 PM.
CREPERIE DU VILLAGE - 970-925-1566 $$
Serving sweet and savory crepes, raclette, cheese fondue, chocolate fondue, salads, charcuterie and cheese boards. Cute atmosphere. 400 E. Hopkins Avenue.
ELEMENT 47 - 970-920-6330 $$$$
Contemporary ccoking infused with seasonal ingredients. Food, wine and service is exceptional Located in the Little Nell Hotel. 675 E. Durant Ave. Open for breakfast, lunch and dinner.
ELLINA - 970-925-2976 $$$$
Modern Italian cuisine bringing together old and new world style cooking with an emphasis on local ingredients. Try the artichoke bruschetta appetizer! 430 E. Hyman Avenue. Dinner only.
GREY LADY - 970-925-1797 $$$
Nantucket themed, offering New England coastal favorites such as grilled lobster, crab cakes, clam steamers, mussels, and scallops. 305 S. Mill Street. Dinner Only.
HICKORY HOUSE - 970-925-2313 $$
Winner of 43 barbeque contests. Very casual; good breakfast - start your day off with the ribs and eggs! 730 West Main Street. Open breakfast, lunch and dinner.
HOPS CULTURE - 970-925-4677 $-$$
Great American comfort food with over 200 beers. Soups, sandwiches, burgers and more. Beer flights available. 414 E. Hyman Avenue. Open for lunch and dinner.
HOTEL JEROME - 970-920-1000 $$$$
Worth a visit just to see this beautiful historic hotel. Three options: Prospect Restaurant for a formal, American Bistro experience, or the famous J-Bar or The Living Room for casual food and drinks. 330 Main Street.
JIMMY'S AMERICAN RESTAURANT & BAR - 970-925-6020 $$$
Very busy, lively atmosphere & great food. Featuring steaks and seafood. Salsa dancing Saturday nights at 11:00 PM. 205 South Mill. Opens 5:30 daily.
KENICHI - 970-920-2212 $$
Japanese fare and sushi in a happening eatery and bar with modern decor. 533 E. Hopkins. Open 5:00 PM - 10:00 PM.
L'HOSTARIA - 970-925-9022 $$$
Contemporary Italian cuisine in a warm and elegant atmosphere. A favorite with locals and a popular bar. Reservations recommended. 620 E. Hyman St. Open 5:30 PM - 10:00 PM.
MATSUHISA - 970-544-6628 $$$$
New-style Japanese cuisine by Chef Nobu with influnces from both his classical training in Tokyo and his life around the world. Dine upstairs in the lounge for a more casual experince, or make reservations for the dining room downstairs. Highly recommend. 303 E. Main St. Open 5:30 PM - 9:00 PM.
MEAT & CHEESE - 970-710-7120 $$
European-style restaurant featuring world farmhouse cuisine by the local award-winning Avalanche Cheese makers. Meats, seafood, cheeses, cured meats, artisian bread, craft beers, and electic wine list. Don't miss the daily taco specials! 319 E. Hopkins Avenue. Open Lunch and Dinner.
THE MONARCH - 970-925-2838 $$$$
Sophisticated steaks, seafood, pastas, and table side Caesar salads served in a classic and cozy atmosphere. Extensive wine list. Open for dinner at 5:30 PM.
PIÑONS - 970-920-2021 $$$$
Exceptional American cuisine with a Colorado touch. 105 South Mill. Dinner Only.
RUSTIQUE - 970-920-2555 $$$
Comfort cuisine in a warm, French Bistro atmosphere. Reservations suggested. 216 South Monarch. Opens at 4:30 PM Daily.
STEAKHOUSE No. 316 - 970-920-1893 $$$$
Modern steakhouse with a la carte steaks, seafood and sides. Good food and a popular place. Open 5:30 PM - 10:30 PM.
WHITE HOUSE TAVERN - 970-925-1007 $$$
Premium sandwiches and salads along with top notch wines, beers, and cocktails. Small menu and cozy atmosphere done right. 302 E. Hopkins Avenue. Open for lunch and dinner.
NOT QUITE ASPEN, NOT QUITE SNOWMASS RESTAURANTS
These places are a little out of the way but worth it!
CLOUD NINE - 970-923-8715 $$$
This on-mountain restaurant on Aspen Highlands features wonderful Swiss cuisine in a European style cabin with unbelievable views of the Maroon Bells. Early lunch, late lunch (1:00 PM) apres ski party, and snowcat dinners available. Top of Cloud Nine lift.
HOME TEAM BBQ - 970-236-2040 $$
Great Carolina style BBQ made from scratch. Good beer and wine list. Live music on Friday nights. Casual atmosphere at the Inn at Aspen at Buttermilk. 38750 Hwy 82, Aspen. Open breakfast, lunch and dinner.
PINE CREEK COOKHOUSE - 970-925-1044 $$$$
Have lunch or dinner in a cabin you get to by riding a horse drawn sleigh (20 min), cross country skiing (20-30 min), or walking (30-40 min)! This unique dining experince features Colorado cuisine in a beautiful cabin with gorgeous wilderness views. Parking is 12 miles from the Hwy. 82 roundabout at the end of Castle Creek Road, across from Ashcroft Ghost Town; restaurant is located beyond the road that is closed in winter. Reservations required. 11399 Castle Creek Road, Aspen.
WOODY CREEK TAVERN - 970-923-4585 $$
Eclectic and funky atmosphere in this long standing local favorite. Great variety on the menu - Mexican dishes and good daily specials. Cash only, reservations not accepted, so you might wait. 2858 Upper River Road, Woody Creek. Open for lunch and dinner.
DOWN VALLEY RESTAURANTS
EL KORITA - 970-277-4500 $
At Willits Town Center (close to Whole Foods), this traditional and casual Mexican restaurant is popular with locals and has great food. Try the molcajete! 251 Harris Street, Basalt. Open for lunch and dinner.
EL POLLO RICO - 970-963-0579 $$
This very casual restaurant may not look like much, but it serves great authentic Mexican food at a good value. The blue corn tortilla enchiladas and bean dip are a must. Great for take-out, too. 952 Hwy 133, Carbondale. Open 10:00 AM - 10:00 PM daily.
THE PULLMAN - 970-230-9234 $$
Popular casual bistro brings elevated food to Glenwood Springs. Great food and innovative menu. 330 7th Street, Glenwood Springs. Open for lunch 11:00 AM - 3:30 PM, dinner 4:30 PM - 9:00 PM.
SMOKE MODERN BBQ - 970-925-5158 $$
Casual BBQ and modern Southern home cooking. Try the Burnt End Mac & Cheese and the Smokin Slaw. Two locations, but we prefer the one in Basalt. 241 Harris Street, Basalt & 713 Grand Avenue, Glenwood Springs.
ZHENG - 970-928-9077 $$
Excellent quality Pan asian cuisine and sushi. 35 Market Street, Glenwood Springs (by Target). Open lunch and dinner.